Wednesday. The day before Thursday, which is the day before Friday, and therefore a sign that you're close to the end of the working week. Or maybe you're lucky enough to be traveling and Wednesday is simply another day on your itinerary to be filled. However you view Wednesday, if you're in the City of Eternal Spring mid-week, you're in luck. From volunteering to live music and cycling in the dark, here are the best things to do in Medellín on Wednesdays.
Film
Movie night at Café Cliche
Where: Carrera 76 #4141
When: 7 pm – 9 pm
Cover charge: Free
A quaint French cafe known for its delicious food and sociable atmosphere, Cafe Cliche is normally filled with loyal regulars who love the friendly staff and good vibes. Not only does the eatery have live music throughout the week, Wednesdays here attract film buffs from around the city to enjoy classic movies. From Danny Boyle to Woody Allen Hayao Miyazaki, the staff selects a broad range of acclaimed films for customers to enjoy, completely for free. We recommend ordering the sangria and tapas (also the chocolate mousse if you have room) and cozying up on the sofas at the front while getting your culture fix.
Volunteer
Teach English in Comuna 13
Where: Calle 42C #50, Parque Biblioteca
When: 4 pm – 5.30 pm
Cover charge: Free
To give something back to the communities of Medellín, every Wednesday in San Javier volunteers teach English to young people. Classes can be as interactive as you like – reading a story, listening to music, playing games, and so on. There's no experience required, just the ability to speak English well and the enthusiasm to help children in lower strata neighborhoods have access to advanced education. Whether you want to make some friends, improve your Spanish or potentially find a new career, volunteering has a huge positive impact on everyone involved. There's no sign-up required, simply arrive on the day and commit as much time as possible.
Exercise
The SiCleada
Where: Calle 51 #64-20 (Parque Carlos E. Restrepo)
When: 8pm – 10.30pm
Cover charge: Free
You've probably heard of the Ciclovia that takes place every Sunday, but the SiCleada is a lesser-known Thursday activity for people who love exploring on two wheels. Each week, up to 1,000 cyclists gather to whizz through the different neighborhoods of Medellín. Oh, and it's in the evening, so there's an added element of seeing the city illuminated with street lights. The organization behind SiCleada aims to promote cycling as a mode of transport to help reduce traffic in Medellín, as well as be an opportunity to rediscover urban areas. The route changes per week, and is always designed to be safe and fun. Attendees need to bring their own bikes and equipment.
Salsa classes
Where: Carrera 73, Avenida San Juan #44-56
When: 7.45 pm – 9 pm
Cover charge: Free
Son Havana in Laureles is one of the coolest spots to overcome your shyness and learn to salsa the sultry way. The Cuban bar is a hotspot for foreigners looking to showcase their dancing skills or to solely soak up great live music and a whole lot of Latin energy. On Wednesdays and Thursdays, the bar hosts free group salsa classes for people of all abilities. Afterward, the club turns into the usual display of flowing Aguardiente and Paisas being spun effortlessly across the room. Both days also have two-for-one drink offers if you need a little Dutch courage to hit the dancefloor.
Live music
Performances at Café Zorba
Where: Parque Lineal de la Presidenta, Calle 8 #42-33
When: 8 pm – 9.30 pm
Cover charge: $5,000 COP
Known for its delicious vegetarian pizza and great ambiance, Café Zorba is a firm favorite with locals and foreigners alike in Medellín. Every Wednesday night, the restaurant welcomes different music artists to perform live as customers tuck into dinner. The genres normally span jazz and acoustic, creating the perfect backdrop for a romantic evening or classy dinner with friends. If you need a break from the pounding reggaetón flowing through the streets, Wednesdays at Café Zorba are a welcome haven.
Jazz at Victoria Regia
Where: Calle 10 #43A-30
When: 9 pm – Midnight
Cover charge: $5,000 COP
Located on Calle 10 opposite Parque Poblado, Victoria Regia is a swanky music venue boasting an assortment of musical shows. Come Wednesday, the upstairs performance area is dominated by local jazz musicians filling the space with smooth tones. Even if you're not the biggest jazz fan, visit to enjoy the drink offers and brush shoulders with Medellín's music connoisseurs. Victoria Regia also happens to be a great date spot, so if you're looking to impress a potential suitor, meet here for drinks before heading out to dance.
Tango at La Pascasia
Where: Carrera 42 #4646
When: 9.30 pm – 10.30 pm
Cover charge: Voluntary donation
Over in El Centro, La Pascasia hosts its very own tango event every Wednesday. With the live orchestra (La Reducida) performing to a small crowd, this weekly show is not only special because of its intimacy but also the sheer mastery of the musicians. If you want to soak up all types of Latin sound while in Medellín, La Pascasia can't be missed. The venue is a cultural center that supports local artists, there's no cover charge but donations are welcomed.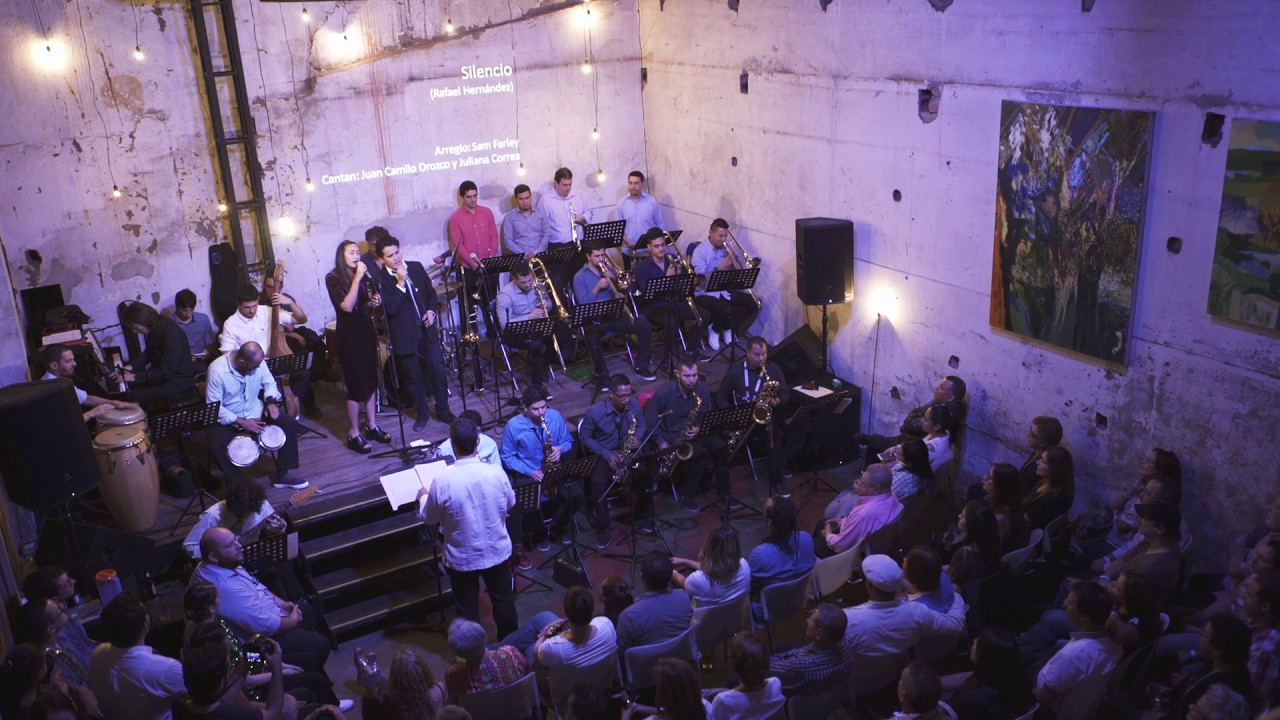 Looking to stay entertained throughout the weekend? Check out our guides on what to do on Saturdays and Sundays in Medellín.
If you are looking for other fun activities to do while you are in Medellín, don't forget to visit our article "Top 10 events of the week in Medellín" where you can find a variety of events: from art exhibitions, to movie nights, free language exchanges, classical music concerts, theater nights, gastronomy events and much more!