Colombia is one of the most biodiverse countries in terms of fruits and vegetables. There are more than 400 native fruit species in the country. You could even eat a different fruit every day of the year if you set your mind to it!
Having a little bit of finger-pointing about where to find the best fresh ingredients with the top quality to fulfill the dream of having a fitness lifestyle and accompanying your workout never hurts.
That's why we prepared for you a list of the top organic grocery stores in Laureles where you can find everything you need to start your healthy diet and discover new flavors and textures.
Let's jump in!
Alimentos Sostenibles
By far, the best organic grocery store in Laureles. Alimentos Sostenibles is located in the heart of Laureles. However, there are other venues in the city like San Lucas and Mall Lemont.
Finding your way around is very easy. Located in the Laureles Mall (129 Store), these shops are popular amongst locals for the wide variety of options. Non-vegan, vegan, and vegetarian brand products are sold here. Also, If you want to find products that fit a specific diet, try:
Gluten-free products

Fat-free products

Organic groceries

Energetic products
One of the most popular products, the vegan popsicles, are made with sweetened almond milk and low-calorie stevia.
The entire catalog of products is on the website, so you can do the market shopping without leaving home. Delivery can take 20 to 30 minutes, depending on your location.
Check out these organic stores that offer everything needed for a specific diet or shopping on the go. treat yourself with a low-calorie snack.
Website:https://www.alimentossostenibles.com.co/
Address: Calle 37, Mall de Laureles # 80-32 Lc.129, Medellín, Antioquia
Saludpan
Saludpan is a restaurant and health food store that competes with Alimentos Sostenibles for the top place on the list. Saludpan is a perfect place for lovers of healthy food.
There is usually a long line of people waiting to have lunch or buy something from the store, so please come with patience! This restaurant is completely vegan and vegetarian, so you'll not find any meat dishes. If that disappoints, some imitations are very convincing!
Among the other products found in the eco shop:
Raw food

Wheat bread

Products based on vegetable protein (Chorizo, lentil burgers, jam, etc.)
Do not miss the Garden Saturdays! 10 am only on Saturdays, the store is full of fruits and vegetables recently harvested from Tierra Paraíso, completely free of pesticides and fungicides.
If you run out of ideas about what to cook for lunch or dinner, check the recipe book of vegan and vegetarian dishes on the Saludpan website.
An insider tip for lunch at Saludpan is the raw lasagna, with layers of zucchini, mushrooms, vegetables, sprouts, almond cream cheese, avocado, and dehydrated tomato paste. This meal also comes with a fresh salad.
Website:https://saludpan.com/sitio/index.php
Address: Cq. 4 #70-84, Laureles, Medellín, Antioquia
Carulla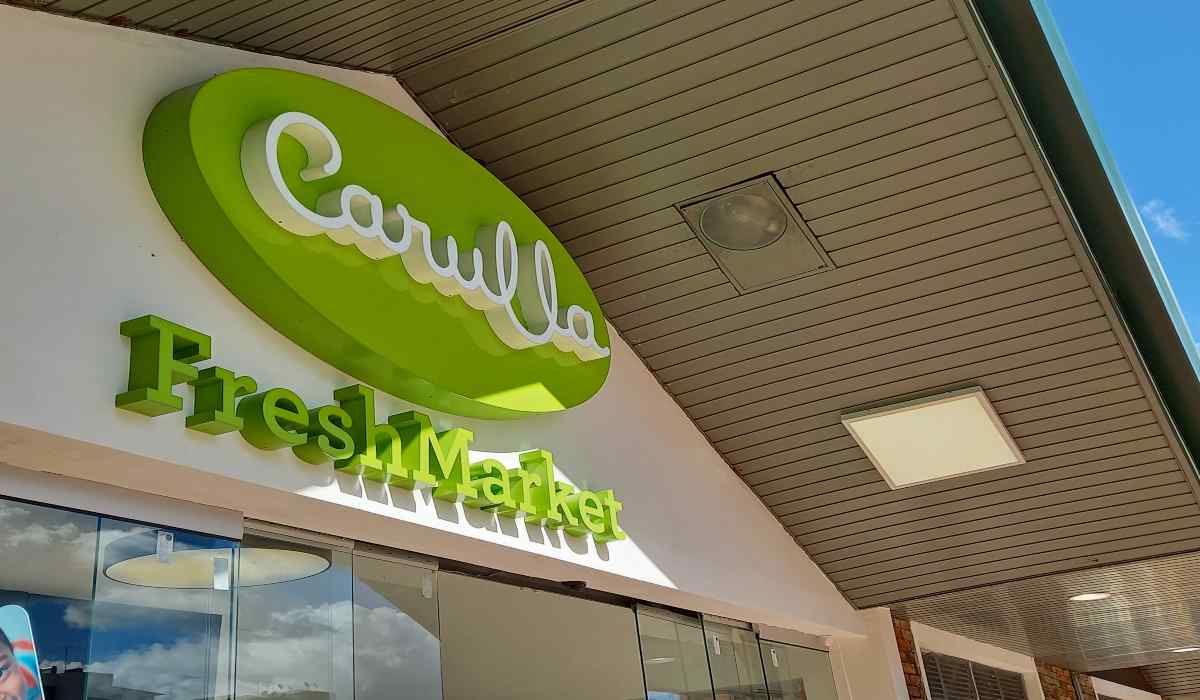 Carulla is a big supermarket chain where there are national and international products. Carullas are mostly located in Laureles and Poblado. Some items in Carulla are familiar to those sold in US supermarkets.
Most stores have a café, a snack bar inside, and a place to sit and enjoy your food. It's a very convenient spot to have lunch while grocery shopping.
The things that most stand out at Carulla are the colorful shelves full of fruits and vegetables.
They are so vibrant that it catches the eye in an instant!
In Medellin, there are multiple stores located all over the city. Grocery shopping or getting a snack is accessible even when leaving the Laureles neighborhood.
Some locals think Carulla is expensive compared to other big stores in Medellin.
While that may be the case, many products are reasonably priced.
Carulla also allows you to shop online, then pick up the bags at the store. Feel free to have the bags delivered to your hotel or Airbnb instead.
Website:https://www.carulla.com/
Address: Transversal 39B, Cq. 73B #22, Medellín, Antioquia
Vita Integral
In addition to finding a wide variety of healthy organic foods, you can also try organic beauty and wellness products. Vita Integral offers good quality products at low prices.
Among other types of food you can find in this store, the most interesting are:
Lactose-free products

Sugar-free products

Keto diet products

Paleo diet products
Vita Integral is an organic grocery store that functions as the middle ground in terms of price and convenience between Carulla and Saludpan.
Website:https://vitaintegral.co/
Address: Av. Nutibara Trv. 39B 77-40
Eat Fresh and Healthy Food in Medellin
Nourishing your body with the freshest ingredients of Medellin is very easy. It's even better if you're lucky enough to stay in one of the most community-based neighborhoods of the city, Laureles.
So, what do you think? Are you ready to start or continue with your healthy eating? Let us know your thoughts in the comments!
Like the story? Take a second to support Medellin Living on Patreon!