The City of Eternal Spring is never short of activities and events taking place all through the week. So, if you're not in town over a weekend, don't worry – there's still plenty to keep you entertained. While Thursdays sometimes feel like just another day before freedom from the 9 – 5 grind, Thursdays in Medellín are known for their parties. Whether you're looking to meet new people, salsa the night away or brush up on your Spanish, here are the best things to do in Medellín on Thursdays.
Medallo pub crawl
Where: Carrera 36 #10-49
When: 9 pm – late
Organized by the Tiger hostel in El Poblado, this pub crawl is a fantastic way to make new friends and sample the vibrant nightlife in Medellín. The crawl takes groups of people (both travelers and guests alike) to four venues around Parque Lleras, each with a different vibe – some are classic Colombian fiestas, while others showcase Poblado's international influence. The crawl takes place every Thursday and begins at the Tiger hostel bar at 9 pm, costing $30,000 COP (people staying at the hostel get a 20% discount). Included in the price is free entrance to all clubs, drink offers and games.
Wandering Paisa hostel language exchange
Where: Calle 44A #68A-76
When: 8 pm – 11 pm
Improve your Spanish speaking skills or simply relax with some beers and great company at the Wandering Paisa hostel. The hostel is known for its laid-back vibes and meet-ups that typically end in dancing or live music performances. All types of people attend the language exchange, so it's a fantastic opportunity to expand your Paisa vocabulary or become more familiar with other Spanish dialects. The event is always free to join.
Salsa classes with DanceFree
Where: Carrera 35 #8A-38
When: 7:30 pm – 9:30 pm
DanceFree is the place to learn how to move like a local in Medellín. The dance school is famous for its salsa and bachata instructors, as well as its passionate community of attendees. Thursdays here specialize in salsa, and guests are invited to loosen their hips and join the group class. People are welcome to come either alone or with friends, and the class caters to all abilities (so don't panic if you've never attempted salsa before). Each class is $15,000 COP per person and includes one free drink at the bar after. Booking in advance comes with a 10% discount.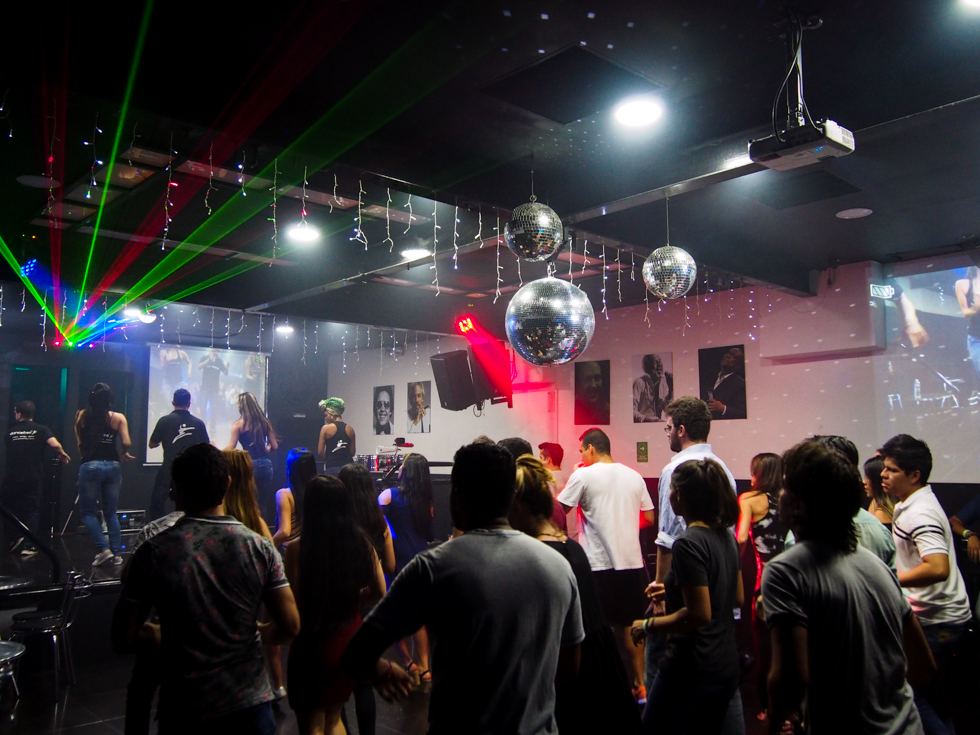 Dancing at Son Havana & SkyBar
Where: Carrera 73, Av. San Juan #44-56 & Lleras Park, Cra. 38 ##8-83
When: 8 pm & 9 pm
After a salsa class, put your newfound moves straight into practice at either SkyBar or Son Havana – both which host free salsa nights on Thursdays. Son Havana is a Cuban salsa bar in Laureles, popular for its high-energy music and sensual dancing. Elsewhere, SkyBar is a chic spot on Calle 10 that draws all ages and nationalities. The nights at either place often end in full parties, so be prepared to get sweaty and stay out late.
Live music at La Cabaña del Recuerdo
Where: Calle 38 Sur #35-04
When: 6 pm – late
Down in Envigado, La Cabaña del Recuerdo is a relatively undiscovered gem in the city. The bar has a distinct bohemian feel and celebrates music and culture from 70 years ago. Complete with a jukebox and lots of vinyls, La Cabaña del Recuerdo combines nostalgia with Paisa identity and a genuine love of music. On Thursdays, patrons can watch live music performances across a range of genres such as tango, vallenato, salsa and more while sipping on Aguardiente. Prepare to meet a collection of very friendly regulars here, all with some serious music knowledge.
Ladies night at Babylon & Bendito Seas
Where: Carrera 41 #9-22 & Calle 10A #38-21
When: 10 pm & 9 pm
Thursdays are known as ladies night in Medellín – meaning some places let women in for free and even drink for free. Babylon has no cover for the first 50 women to arrive, although men are charged $15,000 COP admission. The clientele here is a good mix of Colombians and extranjeros, and the club itself is a fun place to rumbear, normally playing pounding reggaetón. Meanwhile, Bendito Seas also has a ladies night on Thursday and gets very busy. The first 100 women are granted free entry, while men have to pay $35,000 COP but that includes drinks. For both Babylon and Bendito Seas, you'll need to arrive early and will likely have to wait in line.
Tres Cordilleras brewery tour
Where: Calle 30 #44176
When: 5.30 pm – 9 pm
Tres Cordilleras is a trendy microbrewery in Ciudad del Rio serving up a variety of beers and IPAs among live music and a buzzing atmosphere. Not only is there an impressive selection of draught beverages to enjoy, visitors can take a tour of the factory to learn about the brewing process. The tours happen every Thursday and cost $23,000 COP – which comes with five beers.
Want to know what to do other days of the week? Check out the best things to do on Fridays, Saturdays and Sundays in Medellín too.
If you are looking for other fun activities to do while you are in Medellín, don't forget to visit our article "Top 10 events of the week in Medellín" where you can find a variety of events: from art exhibitions, to movie nights, free language exchanges, classical music concerts, theater nights, gastronomy events and much more!