Are you thinking of a weekend getaway outside Medellin but still don't know where to go? Then the Cocora Valley might be a good pick.
Thanks to its coffee landscapes and walks through wax palms up to 70 meters high, it's become a popular tourist destination.
And, while the valley is a little ways out of Medellín, it's definitely a cool place to check out. Here's what to know about this place.
What and Where Is the Cocora Valley?
Valle de Cocora is a natural reserve in the coffee region of Quindio, which is another Colombian department to the south of Antioquia. The valley is part of Los Nevados National Park, and is recognized for housing hundreds of wax palms.
The wax palm is actually one of the emblematic trees of Colombia, so it's definitely a cool thing to check out!
This place is located near Salento, a town also distinguished by the beauty of its streets and handicrafts.
In the Cocora Valley you can take walks, hikes, guided horseback rides, observe the wax palm, as well as enjoy local cuisine in traditional places. And of course, you can't forget to have a good cup of original Colombian coffee.
How to Get To Cocora Valley From Medellin
To get to Cocora Valley from Medellín there are several options. The easiest way is to go by rental car, but there are a few public transportation options too.
To get there, you'll first have to head to Salento.Once in Salento, and maybe after you've toured the town and bought some souvenirs, you can take a jeep from the main square of Salento.
This trip is shared with other tourists or locals as if it were a bus and costs around $5,000 COP (subject to change). This is a traditional way of getting around in the area!
Now, here's how to get to Salento in the first place.
Bus from Medellin to Salento
Although this isn't a very common route, since Salento is not a major city, you can get to Salento by bus.
There's a bus company that leaves from the South Terminal of Medellin, and travels roughly 8 hours to get to Salento. It costs about 70,000 COP (subject to change).
From Salento, you can take a traditional jeep to the Cocora Valley.
Bus from Medellin to Armenia
Another option is to take a bus to Armenia (close to Pereira) from the South Terminal of Medellin. These buses leave a lot more frequently and the journey takes approximately 6 hours instead of 8.
From Armenia, you can take a bus to Salento and then a jeep to the Cocora Valley.
It's a lot of buses, but it's a bit easier to coordinate than going straight to Salento.
Rental Car
If you go by private car you can visit all the small towns of the coffee zone on the way to the Cocora Valley.
This is probably the easiest way to get to Salento from Medellin and is definitely the quickest. It's also the most comfortable.
What it's not is the cheapest. You'll have to pay for gas as well as tolls on the roads down to the area.
What to Expect in the Cocora Valley
Once you get to the Cocora Valley there's tons to see. Here's what to expect in the Cocora Valley.
Hikes and Nature Walks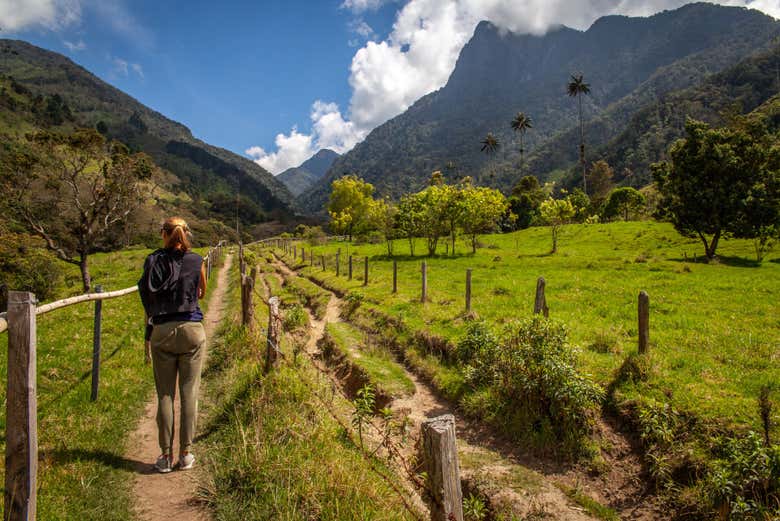 This natural reserve is immense and there are tons of hikes that you can go on.
For fans of the most demanding and extreme hikes in nature, there are different options available such as the walk to Estrella de Agua, which lasts about 5 hours uphill. In fact, it's so hard that you should really have a guide if you plan to take this path.
On the other hand, there are plenty of short loops lasting anywhere from 30 minutes to a few hours. The hikes are great places to get some photo ops without all the tourists.
Guided Horseback Riding in the Valley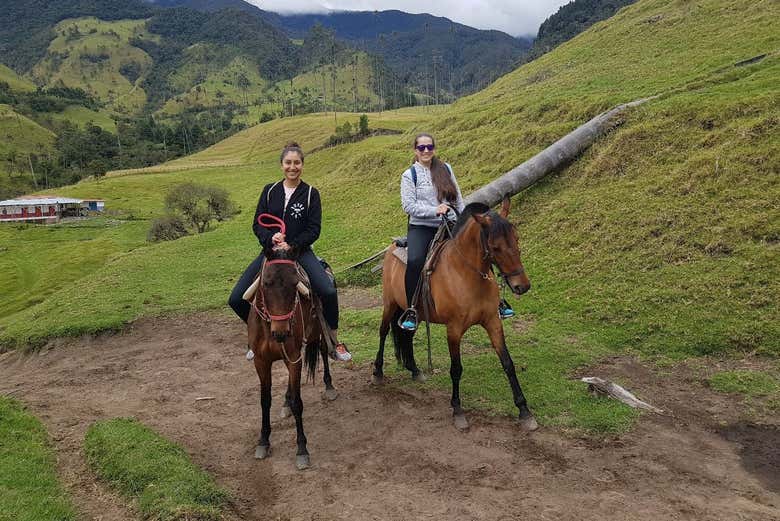 Horseback riding is one of the most popular activities in this area. Although walking is a good form of ecotourism, horses don't exactly give off CO2 emissions either.
And, they're a much more accessible way to see the valley.
Hire a horseback riding plan from Salento or from the Cocora Valley, and choose one of the many routes through the park. You can either head to high altitude viewpoints, head down into the river valleys, or create a custom tour that's a mix of both!
Food and Drink
In the Cocora Valley, traditional Colombian food is well-known for being one of the main draws for tourists.
Not only is it just a great place to take in some views while you eat, but the food here is famous. A few of the best restaurants in the valley include:
Restaurante Bosques de Cocora

Cafe La Finca

Cafe del Bosque de Palmas

Cafe los Andes de Cocora
Get Away to the Cocora Valley for a Weekend
Enjoy one of the best landscapes in the country recognizing the representative national tree of Colombia. Escape to the Cocora Valley for a weekend and go hiking, horseback riding, and coffee tasting.
Have you already been to the Cocora Valley? What did you think? Let us know in the comments!