Searching for ecotourism alternatives in Medellin isn't hard. There are tons of great hikes in the area, not to mention places to try stuff like white water rafting and paragliding.
Still, if your goal is to extend your understanding of Medellin past, well, Medellin, there are some other great places to check out.
The Termales Santa Rosa de Cabal are one of those places, being one of the top places to visit in Colombia. Keep reading for everything you need to know about the Termales Santa Rosa de Cabal!
What to Know About Santa Rosa de Cabal
Santa Rosa de Cabal is a town located 15 kilometers (about 7 miles) from Pereira, the capital of the Colombian coffee region, and is one of the main tourist places in this area of the country.
In fact, this part of the country is a World Heritage Site for its Colombian coffee cultural landscape.
The reason so many people head out there is because Santa Rosa de Cabal is right on the cusp of Los Nevados National Natural Park. There, you can also enjoy the famous Santarrosano Chorizo or go on a coffee tour.
However, the real draw are the hot springs, known as the Termales Santa Rosa de Cabal, with natural hot pools where you can kiss aches and pains goodbye.
How to Get to the Termales Santa Rosa de Cabal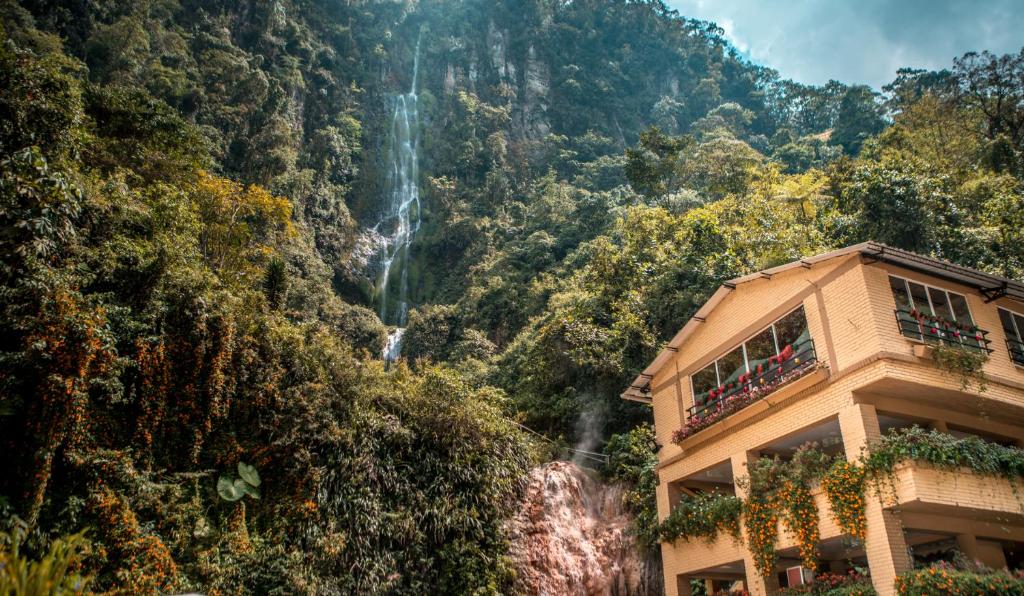 Courtesy of Booking.com
To get to the hot springs, you'll first need to get to Santa Rosa. You can get there by taking a bus from Medellín to Pereira and then transferring to a bus that goes out to Santa Rosa.
Depending on each city is the travel time, but here are a few times and distances to Santa Rosa de Cabal:
From Pereira:

15 km (about 8 miles) and 30 minutes of travel

From Armenia:

60 km (about 40 miles) and 1 hour and 30 minutes of travel

From Manizales:

40 km (about 25 miles) and 57 minutes of travel
Once you make it to Santa Rosa, you can take a bus in front of the mayor's office for approximately $2,500 COP to get to the hot springs. Or, just take a taxi from the main square for a slightly higher price.
Remember that most buses go directly to the town, and From Santa Rosa to the hot springs, the route is 11 kilometers (about 6 miles) long and takes 35 minutes.
If you want to skip the public transport, you can always go in a rental car. But, this option tends to be a bit more costly (even if it is more comfortable).
What to Expect From the Termales Santa Rosa de Cabal
Once you get to Santa Rosa de Cabal, there's a lot to see and do. That's true even if you're not just there for the hot springs!
Here's what to expect while you're there.
The Hot Springs
The hot springs of the Termales Santa Rosa have four thermal water pools that reach as much as 100°F, as well as a 285 foot high waterfall called Santa Helena. The waterfall is surrounded by mountains and high rocky walls that give it a striking appearance.
Even though it's definitely a tourist hotspot, the atmosphere of the place is very natural. There's vegetation and streams everywhere that are really charming.
Also, in these hot springs there are bars where you can buy drinks and snacks. Sip on a cocktail or even just order a pitcher of cold juice. It's the perfect way to cool down after soaking in the water for a while.
To enter this wet area, the site offers wristbands that let you tay for up to four hours. But, it's important to make reservations well in advance or to get there early.
The springs fill up fast!
The Hotel
At the Termales Santa Rosa de Cabal there's a hotel with three different buildings for you to pick from:
Hotel Termales de la Cascada

Hotel Termales del Río

Hotel Termales de la Montaña
These hotels offer reservations for groups or for couples. They even offer a day trip from the hotel where you have the right to enjoy private hot springs and a 180-meter-high waterfall called the San Miguel Waterfall.
Some of the hotel buildings have a swimming pool, others have their own restaurant, and they all have a beautiful view of the mountains that surround the place.
Plus, most of the rooms include breakfast so you don't have to worry about finding somewhere to eat.
The San Miguel Termal Spa
In the Termales Santa Rosa spa, you can get various beauty and self-care rituals such as facials and body treatments.
All the treatments use thermal mud, which is said to have tons of skin benefits. Plus, the treatments use volcanic stones and mineral water to help give your body vital nutrients.
The treatments are actually pretty affordable, too, so if you feel like pampering yourself, this is a good place to do it.
Guided Hikes
The hotel also organizes a guided hike up to the mountains behind the hot springs. The hike only lasts about an hour or two.
On the hike, you'll be given gum boots so that you don't get your feet and legs wet on the way up.
Once you're up in the mountains, you'll get to see the source of the hot springs, a natural sauna, and a large cold waterfall.
You'll also get a chance to go for a swim in the lukewarm waters of the thermal river!
Visit the Termales Santa Rosa de Cabal
The Termales Santa Rosa de Cabal are undoubtedly a first-class tourist attraction. There's tons of stuff to do there, so it's no wonder.
So, what do you say? Are you ready to head there yourself? Tell us about your experience in the comments!