Although affectionately called the 'City of Eternal Spring', pollution in Medellín is a serious problem. Being based in a valley, with mountains surrounding the city, Medellín's location means it cannot easily get rid of pollutants. As a result, pollution tends to stay trapped in the metropolitan area.
There are rainy seasons in Medellín that help clean the atmosphere, and the levels of pollutants in the city fluctuate depending on the neighborhood. However, pollution is certainly one of the downsides of living in Medellín. Here's everything you need to know about pollution in Medellín, including statistics, preventative measures, and health effects.
Pollution in Medellín compared to other cities/towns
It's important to note, Medellín's pollution problem is not comparable to the likes of Cairo and New Delhi, who both feature in the top seven most polluted cities in the world. However, in Latin America, the World Health Organization 2018 Ambient Air Quality Database places Medellín 9th in the list of most polluted cities and towns.
Lima in Peru, Santiago in Chile, Mexico's Cubatão, Brazil, and several towns in Costa Rica all have worse pollution levels than Medellín. Likewise, the capital of Colombia, Bogotá, has a problem with pollution because it is also located in a valley.
The pollution level in Medellín varies in different parts of the metro area according to the city's monitoring stations. The worst level of pollutants in the metro area tends to be found in El Centro, La Estrella, Itagüí, and the lower parts of the valley. Up in the hills in El Poblado, Envigado, and Sabaneta, the pollutant levels tend to be lower.
Pollution-monitoring in Medellín
Under Colombian law, all municipalities that have a population greater than 50,000 inhabitants, or places where there is a clear problem of air pollutants, must have a monitoring surveillance system. Medellín actively monitors the pollutant levels in the city with several monitoring stations. More importantly, the city takes action when pollution levels become worse.
You can see the current pollutant levels at monitoring stations found in different parts of the Medellín metro area online here. For a monitoring system in English, AirVisual also has a great tool here.
Medellín also has the Ciudadanos Científicos mobile app where you can see the current pollutant levels at monitoring stations in the Medellín metro area. The app is available for Google Android and Apple mobile phones.
Particulate matter pollution
Particulate matter pollution, also known as PM, is a complex mix of very small particles, water vapor, and gases. Common small particles can include lead, dust, dirt, and sand. When these components combine, air pollution forms. The EPA regulates two categories of particulate matter for health and welfare reasons, which are used in pollutant monitoring systems worldwide:
– PM 10 are coarse particles between 2.5 and 10 micrometers in diameter
– PM 2.5 are fine particles that are smaller than 2.5 micrometers in diameter
Medellín typically has more of a pollution problem with PM 2.5 and rarely a problem with PM 10. PM 2.5 comes primarily from combustion: car, bus, truck, and motorcycle engines and coal- or natural gas-fired power plants are all major PM 2.5 sources.
The biggest cause of air pollution in Medellín is from vehicles (cars, buses, trucks, taxis, and motorcycles), which reportedly cause 79 percent of PM 2.5 emissions in Medellín. From 2005 to 2015, the number of vehicles in Medellín reportedly rose by 182 percent. Meanwhile, 25 percent of PM 2.5 contaminants come from fixed sources like power plants.
March to April is known as the smog season in Medellín, as the cooler weather means denser air sits atop rising air, which traps pollutants in the valley. September to October is the second transition between the rainy season and dry season, and is normally when there is an increase in the concentrations of particulate material.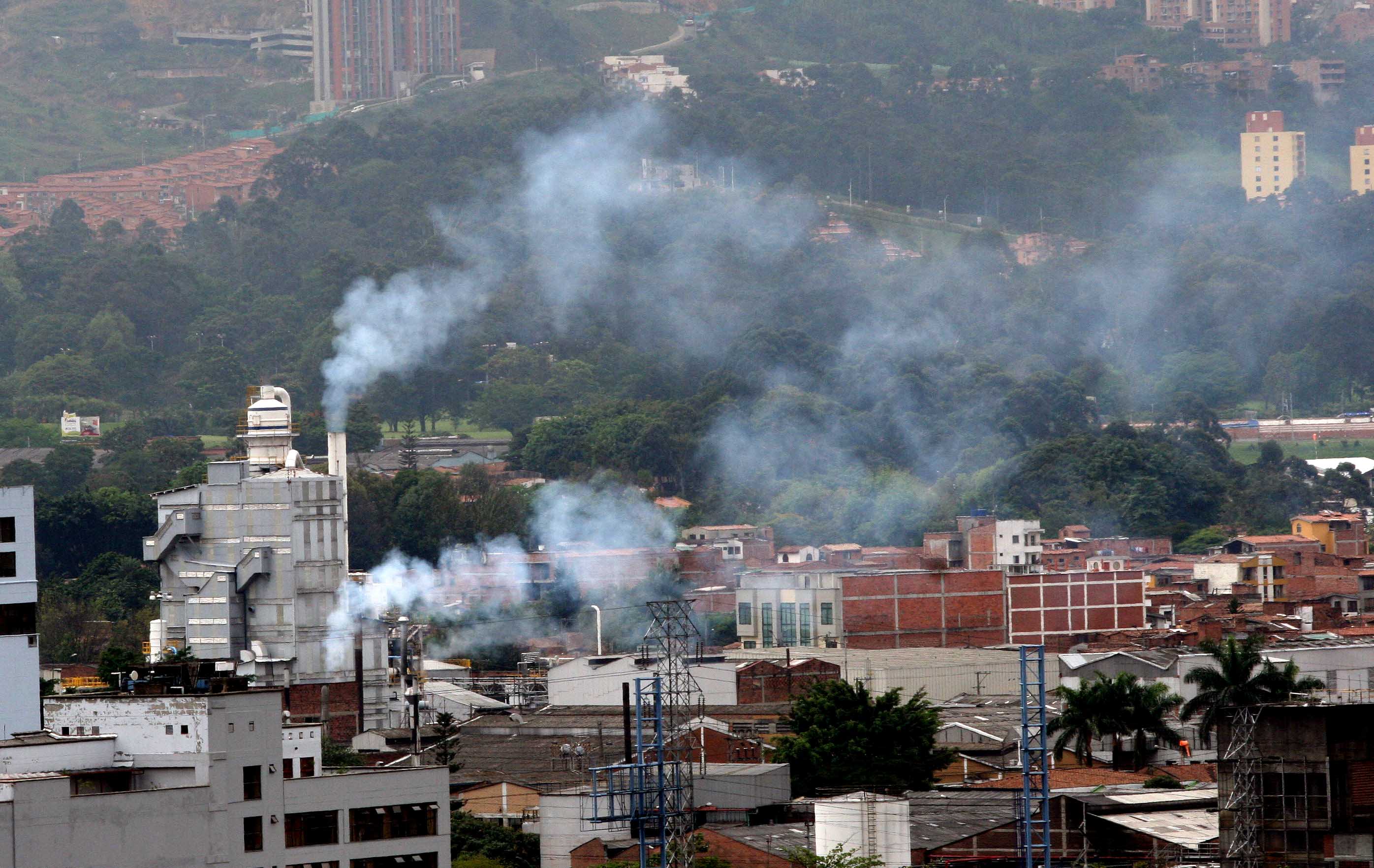 Health effects of pollution
Pollution does not have the same effect on all people. Older adults and children, as well as people with heart or lung diseases, are the most likely to be affected by pollution exposure. Even if you are healthy, you may feel symptoms temporarily if exposed to high levels of pollutants.
Several scientific studies connect particle pollution exposure to a variety of health issues, including:
– Irritation of eyes, nose, and throat
– Coughing and shortness of breath
– Asthma attacks
– Reduced lung functionality
– Irregular heartbeat
– Heart attacks
– Premature death of people with lung or heart diseases
Human bodies struggle to block PM 2.5 pollution. These particles are small enough to bypass your respiratory system's defenses and get into your lungs, where they can even penetrate the bloodstream.
Elkin Martínez, an epidemiologist at Universidad de Antioquia, published a study last year linking up to 3,000 deaths per year in Medellín associated with pollution. This included 1,000 people that died from chronic lung disease, 500 from lung cancer and approximately 1,500 from cardiovascular disease linked to toxic gases and ultra-fine particles that pollute the air of the city.
What is Medellín doing about pollution?
The city of Medellín actively monitors pollutant levels in the city and takes action when monitoring stations start to show a red status, which means that pollution has reached a level that is harmful to health (orange and red level).
When pollution becomes a problem in the city, the actions that Medellín has taken in the past include banning outdoor activities at schools, canceling sporting events, restricting the use of private cars and motorcycles, warning residents to stay indoors and avoid outdoor exercise, closing the Olaya Herrera Airport in the city, and even making the metro system free for a while.
The city is also working to rid the city of older diesel buses with much higher emissions. The city has already replaced most of the metro feeder buses in the city.
If Medellín didn't have its metro system, pollution in the city would be much worse. The Medellín Metro system now transports well over 288 million passengers per year. The clean and efficient system saves over 200,000 tons of CO2 emissions each year while also greatly reducing accidents and traffic in the city.
Medellín has also been increasing the number of stations for its Encicla system of public bicycles as the city looks to increase bicycle use in the city. Currently, there are more than 1,000 bicycles over 18 stations in Medellín – available for free with the Encicla program.
In 2017, the Aburrá Valley Metropolitan Area partnered with the Clean Air Institute to develop a new plan to combat pollution in the city. Titled Plan Integral de Gestión de Contaminación del Aire (The Comprehensive Air Pollution Management Plan), the plan is one of the most comprehensive in Latin America, and includes key aims to establish a low-emission mobility system. Some of the goals include promoting Encicla, encouraging the metro, and discouraging the use of private vehicles.
In conjunction with the plan, Medellín enforces Pico y Placa on a daily basis. As of February 18, 2019, between 7 am to 8.30 am, and 5.30 pm until 7 pm, certain restrictions are placed on private vehicles, motorcycles, and freight vehicles depending on their license plate. Details about which vehicles are allowed on the roads during these time frames can be found here.