Come December, there are few things more exciting than watching the city streets become illuminated with colorful light displays. And while the decorations in Europe and North America consist mostly of Santa, gifts, and Christmas trees, in Medellín the lights include fish, boats, flowers, castles, rainbows, and more. No matter how old you are, the holidays in the City of Eternal Spring are guaranteed to have you buzzing with Christmas joy. So, whether you're away from home and looking to feel festive, or simply need a seasonal Instagram upload, here's your guide to the Christmas lights in Medellín.
Where: Parque Norte and Parques del Río
Dates: November 29th – January 6th 2019
Time: 6 pm – Midnight
Cost: Free
History of the lights
Medellín's Christmas lights are known as 'Alumbrados Navideños' or 'El Alumbrado' in Spanish. The first public Christmas lights in the city took place in Plaza Mayor in 1851, however, it wasn't until 1955 when the annual display began happening. 1955 was the year that EPM (the utility company in Medellín) was consolidated, and in collaboration with the government and press, started putting up Christmas lights in Medellín.
Fast forward to 2019 and it's the 52nd year the light show has taken place, which is now solely organized and sponsored by EPM. EPM is responsible for many projects in the city that promote community and mobility. Each light display features millions of lights formed in various structures and patterns. The highest number of lights adorned in the Alumbrados was in 2017 when 37 million lights were hung.
Recently, the number of lights has had to be reduced due to financial constraints faced by EPM. Nonetheless, the spectacle is a huge annual event and draws crowds from around Colombia and the world. Up to four million people in Medellín see the Alumbrados Navideños each year, and approximately 90,000 extranjeros head to Colombia specifically for the Christmas lights.
Where to see the lights
Unlike previous years, 2019 will host the lights across two different locations. The first, and main location, is Parque Norte – the theme park located nearby to Universidad metro station. The second location is Parques del Río, along the road following the river.
In terms of the type of lights you can expect to see in the two areas, Parque Norte will be a more traditional show, while Parques del Río is more modern. Additionally, Parques del Río will include lighting that changes the color of the river, and elsewhere the Medellín City Hall will feature huge installations, and the EPM building will have colorful projections on it.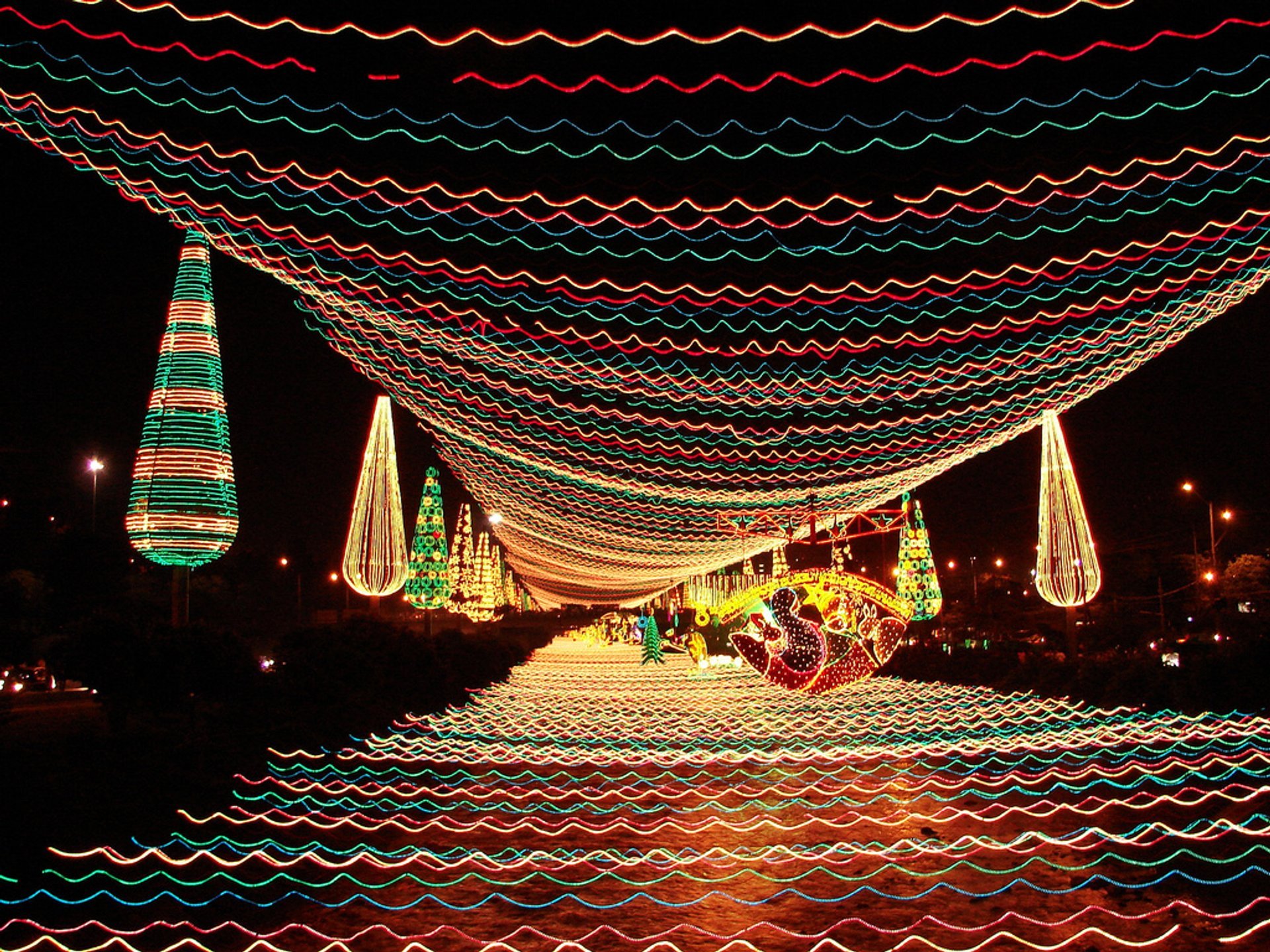 How to arrive
For Parque Norte, the metro is the cheapest and quickest mode of transport. Take Line A to Universidad and the park is then a 5-minute walk away. Parking at Parque Norte is very limited, so if you can't use the metro, we suggest catching a taxi – all drivers will know the location but be prepared for long traffic queues.
For Parques del Río, again, the metro is the best option. This time, take Line A to Exposiciones station. From there, it's a 15-minute walk west, including going over the river bridge. There is also the option to go via taxi but we recommend leaving early to ensure you don't spend time and money sitting among the blocked roads.
Other places with lights
Although Parque Norte and Parques del Río are the primary spots to see the lights, there are a few smaller displays in other parts of Medellín. All the main parks in the 16 comunas of Medellín will have lights, such as Primer Parque in Laureles, Parque Poblado in Poblado, as well as the parks outside of the metropolitan area; like Parque Envigado, Parque Bello, and Parque Sabaneta.
La 70 (Carrera 70 near Esadio), Avenida Las Palmas (in El Poblado), Avenida La Playa (El Centro), the Ayacucho tram line (from San Antonio to Oriente in El Centro), and Pueblito Paisa will all have their own mini Alumbrados too.
Food, drinks, and shops
Even with EPM's financial restrictions, this year's light display is guaranteed to be spectacular. More than 27 million LED lights will be used, plus there will be 32,000 hand-woven figures to admire. It takes a team of roughly 200 people to prepare the Alumbrados, consisting of welders, architects, designers, artisans, engineers, and more working throughout the year to ensure that December in Medellín is fully illuminated.
Both the Parque Norte and Parques del Río locations will have booths selling food, drinks, and souvenirs from the light shows. There will also be small Christmas stalls to buy local arts and crafts from.
Tips for expats
– Although known as the City of Eternal Spring, Medellín also sometimes gets unexpected heavy rain, so pack an umbrella
– Because the event information is in Spanish, it's best to brush up on a few words and phrases to get around easily
– Note all the locations for the displays you want to attend. The metro and roads in Medellín get very busy during the festival and you'll need extra time to arrive at places
– Arrive early to secure a good viewpoint; people also take chairs or stools with them to sit
– Keep personal belongings close to you, theft is common at large events. Don't flash valuables or take your passport with you
– Drinking alcohol in public is technically illegal and if caught, you face a fine. However, the police can (and do) choose to ignore public drinking so long as you're discrete