Colombia is one of the world's top flower farming countries. In fact, there are more than 1400 species of flowers grown here, of which the most popular are roses, carnations, and chrysanthemums.
To commemorate this important part of Colombian culture, the city of Medellin hosts a flower festival every year. The festival celebrates the history of flower farming in the country and the importance of this crop.
If you're visiting Medellín this summer, you can't miss the 2022 Flower festival. Read on to learn all about this popular festival that takes place every year in Medellin!
What is the Flower Festival?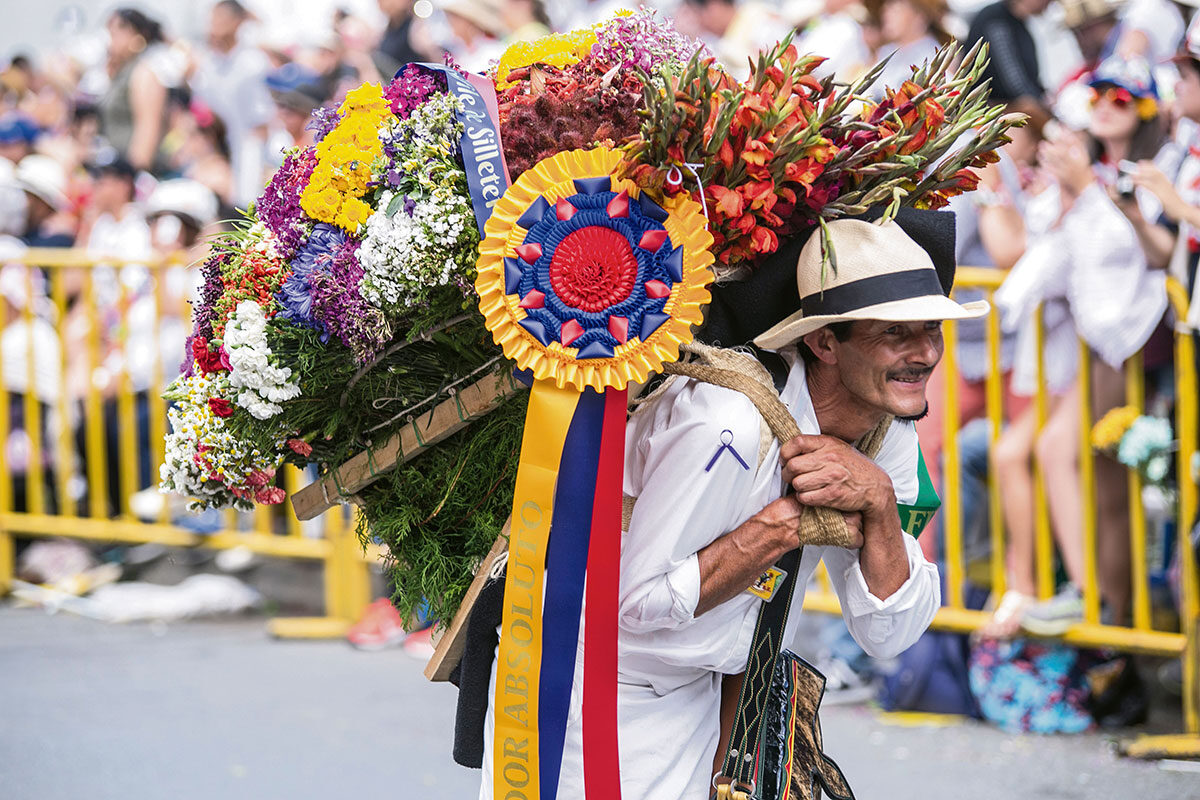 The first flower festival, or Feria de Flores, was held in 1957, and as you can imagine, it was not as spectacular as the current annual fairs.
The event aimed to celebrate the trade of the silleteros, peasants who carried a silleta (big wooden boards adorned with flowers) on their backs. Although these silletas are mostly for show today, they were once an important part of gathering and harvesting flowers.
Anyone who dares to carry one of these silletas -which can weigh up to 140 lbs- is called a silletero. At the time of the first flower festival, only 40 silleteros participated. However, the fair was so successful that today it's grown into a huge national event and is one of the oldest traditions of the city.
You'll find things like concerts, parades, and local vendors selling wares at the fair. The flower festival was not held for three years (thanks to Covid-19), so this year will be a big party.
The 2022 Flower Festival Schedule
Luckily, we already have the confirmed time and place of each festival event. Don't forget to consult the website of the festival beforehand, as there may be some unplanned changes.
Below are some of the most important events, however, there are many other side events that you can attend as well.
| | | |
| --- | --- | --- |
| Event | Date | Location |
| Launch of the Flower Festival | July 27 | Aeroparque Juan Pablo II |
| Obelisk Innaugural Concert | August 5 | Stadium Sector |
| Ball de las Flores | TBD | Aeroparque Juan Pablo II |
| Vasquez Building Flower Decorations | August 5 – 15 | Vásquez Building |
| Music and Food in Pueblito Paisa | TBD | Pueblito Paisa |
| Party in Parque de los Deseos | TBD | Parque de los Deseos |
| Escenerio Colombia | TBD | Ciudad del Rio |
| Todos Somos Uno | TBD | Teatro Pablo Tobón Uribe |
| Parque de las Flores | TBD | Parque Juanes de la Paz |
| Escenario Infantil | TBD | Parque Norte |
| Bicycle Parade | TBD | The Whole City |
| La Feria en Mi Corregimiento | TBD | Santa Elena, San Cristóbal, San Antonio de Prado, Altavista, San Sebastián de Palmitas |
| Art Circuit of Medellín | | Barrio Colombia, Provenza, Perpetuo Socorro, Palacio Nacional |
| Don Omar y Juan Luis Guerra The Kings Concert | August 12 | Anastasia Giradot Stadium |
| Silletero Parade | August 15 | Avenida del Rio |
What to Expect at the Festival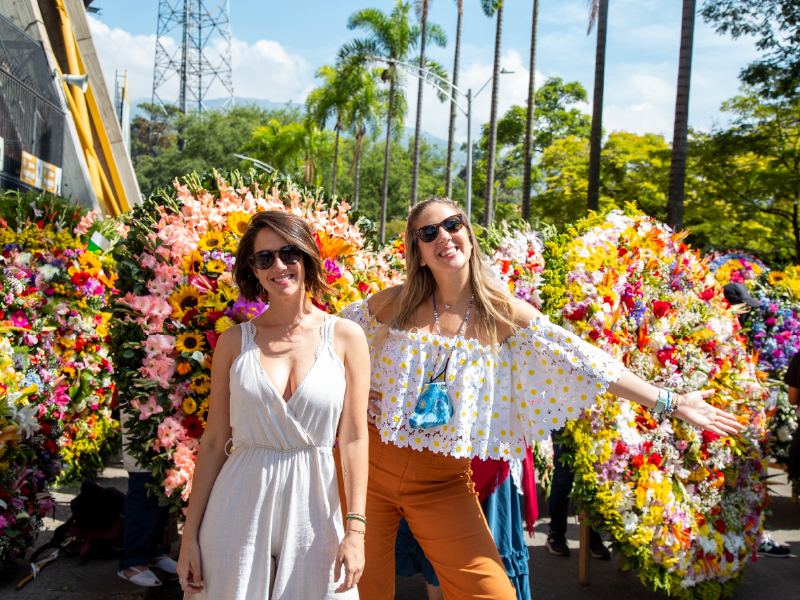 At the festival, besides the famous flower parade, you'll find diverse concerts and tons of other activities that are great for the whole family.
Whether you want to taste all the Antioquian food in the traditional food festivals or spend the day enjoying the beautiful flower arrangements carried by the silleteros, we're sure you'll find something you love.
Let's take a closer look at a couple of the key events at the flower festival.
Concerts
Music and dance are two major aspects of Colombian culture, and the annual flower festival is the perfect place to experience both of these activities.
You'll find several concerts every day, all celebrating different musical genres, so you can really get a feel for a couple of different Colombian musical styles.
Don Omar and Juan Luis Guerra will perform in the last days of the festival, but you can also see artists, such as:
Marc Anthony

Silvestre Dangond

DJ Pope

Jessi Uribe

Pipe Pelaez

ChocQuibTown
If you're not already familiar with these artists' music, head over to YouTube to check out what they're all about!
Vasquez Building Flower Decorations
Every year the city decorates the Vazquez building, covering it from head to toe with colorful flowers. You can head inside and pose with the beautiful arrangements or snap some selfies for your Instagram.
The building's decorations went up on August 5 and will be around until the festival ends, or even after. Since the festival sometimes lasts past the official end date, you'll likely be able to snap some photos even a couple of days after the festival is over.
Parade of Silleteros
Although the party and the concerts are very entertaining, you can't forget the main reason for the festival: the parade of silleteros.
On the last day of the festival (August 15) is the huge silletero parade. This is really the main attraction of the flower festival so you can't miss it.
Artists usually prepare months in advance to have their silletas ready to be shown to the public. The arrangements are specially designed to represent Colombian culture.
Some Tips for the 2022 Flower Festival
Before you buy your tickets, there are a couple of things to keep in mind about the Feria de las Flores. Here are some tips for attending festival events:
Take care of

your personal belongings

. Leave your valuables behind and pack light to avoid pickpockets or losing anything important.

It's important to hydrate, so make sure to bring a bottle of water. You can purchase these while you're out as well, but expect prices to be hiked up for the festival.

Wear lots of sunscreen, wide-brimmed hats, and long-sleeved T-shirts to prevent sunburn.
With these tips in mind, you're ready to spend a day at the festival!
Get Ready for the Medellin Flower Festival
Now that you know about the festival's schedules, events, and history, you're ready to attend the 2022 Medellin Flower Festival.
This is an unforgettable experience that will teach you a lot about Medellin and Colombian culture.
Like the story? Take a second to support Medellin Living on Patreon!