Although in Medellin you can find a lot of outdoor activities, booming nightlife, and friendly people, you'll always find an enriching experience in one of the city's many museums.
One of those museums is the Pedro Nel Gomez House Museum. This is a place dedicated to keeping alive the life and work of this renowned Colombian artist.
Does this sound like something you might like to check out? Then keep reading to learn more about the Pedro Nel Gomez House Museum!
Getting to the House Museum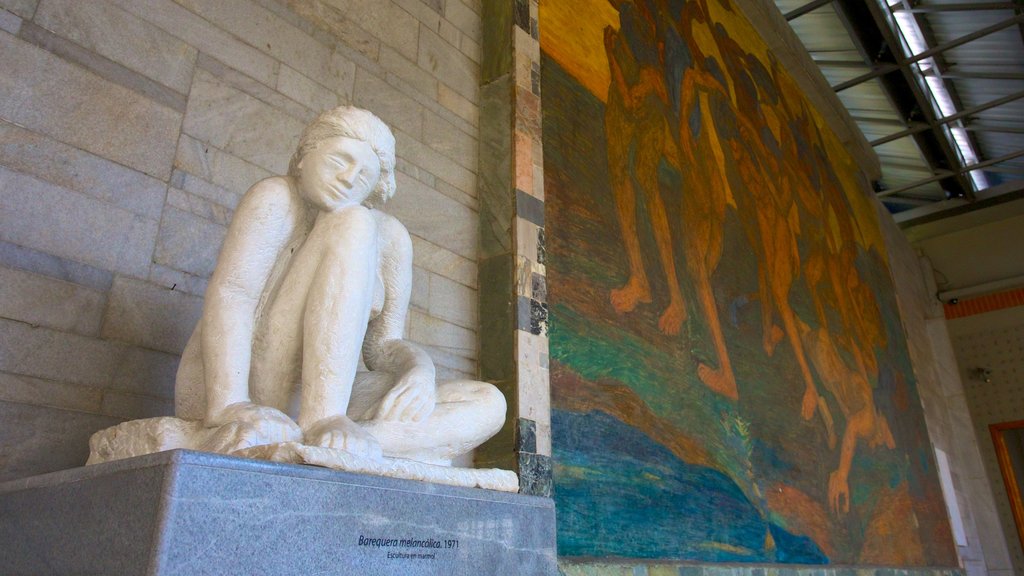 The quickest way to get to the house museum is by taking a taxi or uber that will drop you directly at the museum. You can also take the metro line A and get off at the Universidades station.
Then take one of these two buses from the station:
However, if you don't mind a short stroll (about 15 minutes), you can walk from the metro and give yourself a chance to explore the Aranjuez neighborhood.
You'll pass by some of the other popular tourist spots in Medellin, such as the botanical garden Joaquin Antonio Uribe, Parque Explora, Parque de Los Deseos, and the Parque Norte.
Once you arrive at the museum, you'll need about an hour to go through the exhibits. Afterward, you can enjoy one of the libraries or seating areas around the outside of the building. Or, head back the way you came from to check out one of the aforementioned tourist spots.
Inside the House Museum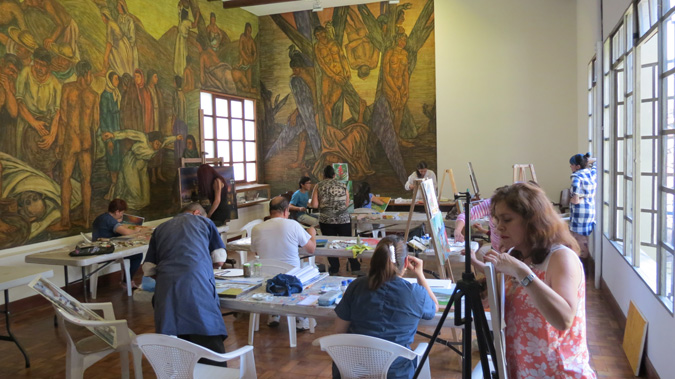 To get into the museum, you'll be asked to make a voluntary contribution, which is intended for the maintenance of the place and other activities such as workshops or recreational activities. It's pay-what-you-will, so you can pick how much you're willing to donate.
This house museum was built in 1975 by the artist himself on one of the Aranjuez neighborhood's surrounding hills. When he built the house, Gomez wanted to fulfill the wishes of his wife, Giuliana Scalaberni, and create a space that could be dedicated to the city of Medellín.
This engineer, sculptor, and Colombian artist did just that by leaving a legacy of hundreds of frescoes, oil paintings, watercolors, pastels, drawings, engravings, and sculptures. His art aimed to paint a picture of Colombian life, showing the country's political, economic, and cultural landscape.
While at the museum, you find a large collection of personal belongings of the artist as well as his art. This gives you a unique look into who the artist was and what his life might have been like back in the day.
The museum features four permanent exhibits:
Collection of fresco murals

Studio-workshop

Tribute exhibition to Giuliana Scalaberni

Meeting room
It also features temporary exhibits that change all the time. We recommend visiting the museum's website to find out about future exhibitions, schedules, and prices.
Other Cultural Spaces
In addition to the art exhibitions, you can find a great diversity of musical and artistic groups in Medellin that use these spaces to rehearse their performances.
The house museum also has a small library where you can find information that relates to Gomez and his art processes. Plus, there's a small auditorium where films, documentaries, or other cultural events are shown from time to time.
Behind the building, you'll find a small garden full of native vegetation of the region and a play area for children. You can take in the incredible views of the Antioquian mountains and the city.
Activities and WorkShops
In addition to being home to an important part of Colombia's cultural history, you can use these city spaces to learn something new and why not, take some of Gomez's artistic inspiration.
Ceramics Workshop
Aimed at anyone seven years or older, this workshop teaches you the basic techniques for making ceramics. You can enroll in the ceramics initiation course or skip to the advanced group if you feel adventurous or already have some experience in the field.
This workshop is perfect for having a friendly time with new people and practicing Spanish. Just keep in mind that you must bring your own utensils to learn to sculpt, mold, and paint.
Tango Lessons
If you enjoy dancing, you might want to check out the tango lessons at the house museum. This is a free activity and a cool way to explore a bit more of Medellín's dancing scene.
Sewing Workshops
You can also g to know Colombia's cultural roots through design, patronage, and haute couture at a sewing workshop! This activity is also free to the public. However, you should bring your own tools necessary to sew and design.
Yoga Lessons
The museum sometimes puts on yoga lessons, which are ideal for anyone who wants to do some mindfulness meditation. The classes are free, and you don't need to have any prior experience.
Just bring your mat and a small towel and join in the class!
Spend a Day in Pedro Nel Gomez House Museum
The Pedro Nel Gomez House Museum is a place where you can learn more about Colombian art. Whether you want to kill some time on a rainy day or learn a new skill, this artistic corner is a Medellin must-visit that you can't miss!
Like the story? Take a second to support Medellin Living on Patreon!