Found in the downtown area of El Centro, Museo de Antioquia is a grand building that overlooks the busy Plaza Botero. Home to a range of exhibitions, the museum offers a unique insight into the department of Antioquia and Medellín's role in its story. Whether you're an art-lover, a history buff, or simply want to soak up local life, a trip to Museo de Antioquia is a great activity. Here's how to arrive, what to see in the museum, and the backstory of Fernando Botero.
Address: Calle 52 #43
Opening hours: 10 am – 5.30 pm Monday to Saturday, 10 am – 4.30 pm Sundays and public holidays
Entry cost: $18,000 COP for foreigners, $12,000 COP for Colombians (50% discount for people over 60 and students, 30% discount for groups of more than 5)
Accessible for wheelchair users: Yes
Website: https://www.museodeantioquia.co/
How to get there
Metro
Take Linea A (Line A) to Parque Berrío (there are now announcements in English on the metro that this stop is for Museo de Antioquia). In the station, follow signs for the exit in the direction of Plaza Botero. Once outside, continue straight for one block, following the direction of the train line above. You'll soon see a large black and white chequered building – this is the Rafael Uribe Palace of Culture, and the beginning of Plaza Botero. Turn left once you pass the palace and across the plaza is Museo de Antioquia.
Taxi
All taxis drivers will know where Museo de Antioquia is. Simply say 'Museo de Antioquia (like 'moo-seh-o de An-ti-oh-key-a') por favor' and they'll take you there. Coming from Poblado – and depending on traffic – it should cost around $10,000 COP.
History of Museo de Antioquia
The museum was first founded in 1881 at a different location in Medellín. By 1997, the museum was in significant debt and had very few visitors. After trying to purchase pieces by Medellín-born artist Fernando Botero in installments, Botero promised that he would make a donation if the museum could improve. These donations include the now sculpture, painting, and drawing rooms.
With the support of the new director of the museum, the governor of Antioquia, and the mayor of Medellín, the board of the museum began looking for another location. It was Mayor Juan Gómez Martínez who suggested using the old Municipal Palace in El Centro for the project. The idea coincided well with plans to renovate the deteriorated part of the city, and soon after, Plaza Botero began being constructed too.
At its current location, Museo de Antioquia opened October 15th, 2000. All 23 statues in Plaza Botero were inaugurated a year later. Since Botero first donated to Museo de Antioquia, he has since invested much of his artwork in Medellín for free. He is widely respected and praised by Paisas for his dedication to the city.
Who is Fernando Botero?
Even if you're not familiar with Fernando Botero, you've most likely seen his work all around the world – including Park Avenue in New York City and the Champs-Élysées in Paris. In Colombia, Botero is certainly the most prolific painter and sculptor.
He was born in Medellín in 1932. He initially went to matador school to learn to become a bullfighter, but after changing his mind, he went on to pursue the arts, living overseas and studying the works of famous artists in Madrid, Paris, and Florence.
Pieces by Botero are best known for featuring plump, rotund people, animals, and objects. The artist did not consider his subjects "fat" but rather considered it an exploration of proportion, volume, and form. His works are identifiable for their distinctive and playful style, yet still, explore important themes.
Botero's subjects range from still life to local characters and cityscapes here in Antioquia, to bullfighting and the culture surrounding it, and the increasing violence in the era of Pablo Escobar – all of which are done in his signature style of 'Boterismo'. Currently, there are more than 100 works by Fernando Botero in Museo de Antioquia.
What to see in the museum
Before heading into the museum, take a moment to wander among the bronze Botero statues scattered around Plaza Botero. The sculptures combined with the looming Gothic design of Rafael Uribe Palace of Culture make a perfect photo opportunity and are one of the best free things to do in Medellín.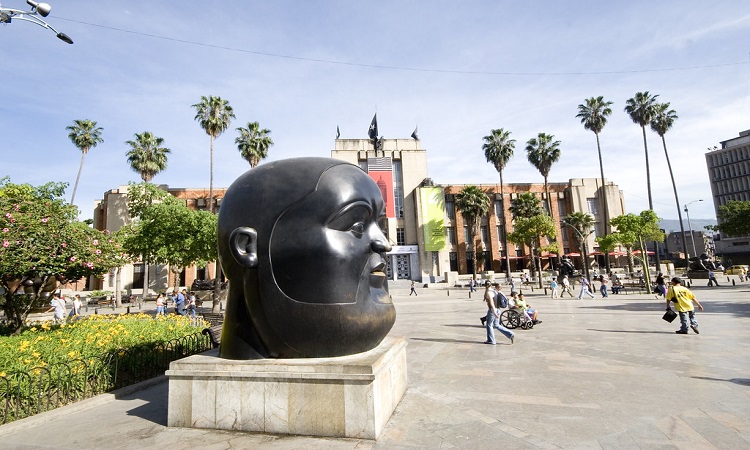 Once inside, the primary exhibit of the museum is the comprehensive collection of Fernando Botero's paintings and sculptures, located on the third floor. The museum staff recommends starting here with Botero's art and working your way down. If you'd like a member of staff to give you more information, tours take place daily at 2 pm for free in Spanish only. Alternatively, English-speaking tours are available but have to be booked in advance and cost a small fee based on the group size.
There are a number of other exhibits, including a hall featuring the works of international artists (mostly modern art), an exhibit featuring religious and colonial art from the period of conquest in South America, and much more. The exhibitions change on a rotational basis, so we suggest checking the website beforehand to see what's on display for your visit.
For a little bit of nature while in Museo de Antioquia, there's a picturesque courtyard to sit and enjoy the sunshine. Additionally, the museum gift shop sells quaint, locally-made items and replicas of artwork from the museum – fantastic as gifts for friends and family back home. Elsewhere, a café and restaurant are located on the first floor, for when you need to refuel having wandered the museum for hours.