Hollywood movies were the first inspiration for brunch, a mealtime movement that's swept the globe.
And, that's no different here in Medellin, where the mimosas flow and the food tastes great!
If you're ready to sit down with some friends for some good ol' fashioned old fashioneds and chow down on some classic American breakfast food, this guide is for you.
Here are the seven best Medellin brunch spots to check out during your time in the city.
1. Seré
Seré is a cozy nook tucked away on an unassuming side street in Barrio Manila. The joint specializes in fresh bread, and most of its menu reflects that.
Some of the things you'll find on the menu include:
Tostones

Sandwiches

Woks

Pastries
You can, of course, pair your meal with a mimosa. Or you can opt for something of SERÉ's coffee menu.
2. Café Resto Cambria
Cambria is a French-American blend of all the best flavors of both countries. It's a super cozy-chic café located in the heart of Manila.
As soon as you walk into the restaurant you'll notice the crooning oldies radio playing and the gilded paintings adorning the walls. The lights are dimmed down low so it feels like a cozy hideaway, even at 5 am.
Not only is the food delicious, but the staff is pretty great too. They generally get your meals out pretty quickly, so if you come on an empty stomach, you'll have no time to get hangry.
Still, what we're really here to talk about is the menu and at Cambria, it doesn't disappoint. The brunch menu is extensive, offering everything from cappuccinos and cakes to ooey-gooey pasta dripping with cheese.
Or, you can go for the classic brunch fare: French toast or eggs Benedict. Whatever you choose, prepare to leave stuffed as the portions are huge.
3. Ganso & Castor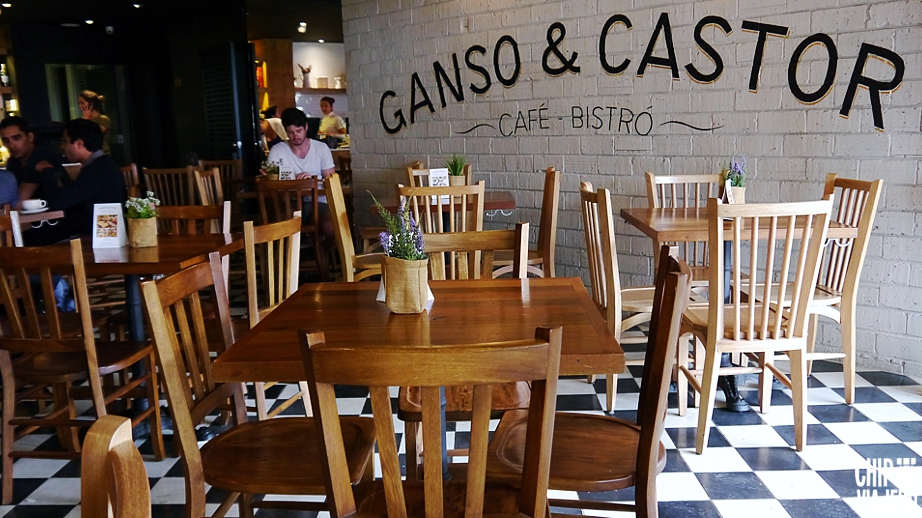 Do you want to feel like you're experiencing the best features of both New York and Paris? Then Ganso & Castor is the right place for you.
Ganso & Castor has French drinks on the menu that add a little bit of pizzaz to your Sunday brunch.
And, despite the fact that the owners are 100% Colombian, the menu features a wide range of poached egg dishes that feel distinctly international.
A few of the best items on the menu include the pancakes or the salmon bagels. Whether you go for those or something else, the quality is unmatched.
4. Azul Selva
Azul Selva knows brunch. They've got great mimosas and delicious brunch classics with a few twists.
For instance, my personal favorite at this joint are the pumpkin pancakes. They transport me right back to PSL season with autumn leaves falling around me.
Another thing that's great about Azul Selva is that they buy all their produce the same day they cook your food. That means literally nothing on the menu is more than a few hours old!
There are also tons of different food options. If you're vegan or vegetarian, there are choices for you. Or, if it's gluten or dairy you're avoiding, Azul Selva has you covered as well.
5. Botánika Cocina Fresca
Botánika is a spot 100% inspired by nature. Just sitting down at one of the tables will transport you into the jungle and make you feel as if you've ventured well outside the bounds of bustling Medellin.
What's cool about Botanika is that the meals are all prepared with edible flowers. Talk about super Instagrammable dishes!
In terms of what to try, I'd say you should go for the melted cheese fondu. It's small but mighty, and actually works well when you share it with a friend or two.
Botanika only offers brunch on Sundays, so you'll have to set aside a weekend. Just make sure to get there early as it gets pretty packed once the crowds start rolling in.
6. Cucayito
Are you a fan of traditional Colombian food? If so, I don't blame you. I am too.
Cucayito is full of tons of paisa favorites, such as chicarrón, corozo juice, and arepas. It's a place that will make you feel as if you're under a coconut tree on the playas of Cartagena, rather than sitting in downtown Medellin.
In essence, it's a place to brunch with beach-side flavors.
If you've never tried them, I'd recommend you go for the sweet arepas with anise, a specialty of the Colombian Caribbean.
Just don't blame me when you get hooked! You'll want to keep coming back to this specialty brunch place, and for good reason!
7. Los Porteños
If you feel like eating something sweet Los Porteños is a great option. You have to try the croissants paired with a silky-smooth cup of coffee.
If you have a craving for something a bit heftier, you can order the Medialuna Bacon with egg and bacon. Another great choice is the Caprese tartlet, although this is small enough that you might want to order two.
Finish the meal off with a pastry filled with fluffy cream or dulce de leche.
Break Bread Over Some of the Best Medellin Brunch
While I'm not sure which of these brunch spots you'll pick, I can confidently say that any of them is a good choice.
The meals are mighty and the mimosas are many at these phenomenal brunch spots. Best of all, they've got the low prices you've come to expect from meals in Medellin.
So, what do you say? Which spot will you pick for your next Sunday brunch routine? Let us know in the comments, and tell us if you've got any other great suggestions.