Medellín's biggest annual event sees thousands of people from around the world flock to the city to celebrate past traditions, experience the vibrant atmosphere and watch the streets come to life in a flurry of colors. 2019's Feria de las Flores is due to take place from Friday August 2nd until Sunday August 11th and is set to be even more spectacular than the previous years. While the flower parade, classic car show and music concert and the main attractions, the festival also has plenty of smaller goings-on across Medellín.
Whether you're all-too-familiar with the festival and want to discover the lesser-known gems, or are simply hoping to do as the locals do over the 10 days, here are some of Feria de las Flores hidden events.
Festival de Sancochos
Where: Santa Elena
When: July 28th, 10 am – 10 pm
Start the festivities with a traditional Colombian dish. Sancocho is a soup consisting of meat and large chunks of vegetables. It's typically cooked on firewood in huge pots and shared out among families and friends. This particular event draws chefs from around the region who all prepare their specialty version of sancocho for hungry visitors.
Flores, Follajes y Fotografías
Where: Universidad de Medellín
When: August 2nd, 8.30 am – 6 pm
Soak up a little culture in this art hall which proudly displays the works of multiple artists, representing different themes from the festival. Pieces include photography, paintings, and sculptures, and all tell a story about the Feria's significance in Medellín.
Festival de la Cerveza
Where: Centro Comercial Unicentro
When: August 2nd – 3rd, 11 am – 11 pm
Sample a wide variety of beers, learn about how the brewing process and tuck into delicious food. This festival is ideal for filling time between the bigger events and immersing yourself in Paisa drinking culture.
Concierto Viva la Salsa
Where: Centro de Eventos La Macarena
When: August 2nd, 6 pm – 3 pm
An absolute must-see for salsa-enthusiasts, this show features big names from Latin America performing a blend of salsa dances. Remember to bring your dancing shoes and prepare to get involved!
Mercado de Sanalejo
Where: Plaza Botero
When: August 3rd – 4th, 8 am – 6 pm
Buy a souvenir from Medellín or simply browse the quaint items made by locals at this street market. From clothes to accessories, food and handicrafts, and of course plenty of flowers, you're sure to find a bargain.
Al Ritmo de la Bici
Where: Parque de las Luces
When: August 3rd – 4th, 3 pm – 8 pm
Medellín has become increasingly bike-friendly, so what better way to explore than on two wheels? This bike route loops through El Centro, finishing at Parque de las Luces, and is a fantastic way to see some of Medellín's best sight, plus people dressed up and bikes decorated with flowers. Participants need to bring their own bike, or if registered with Encicla, can rent city bikes for free.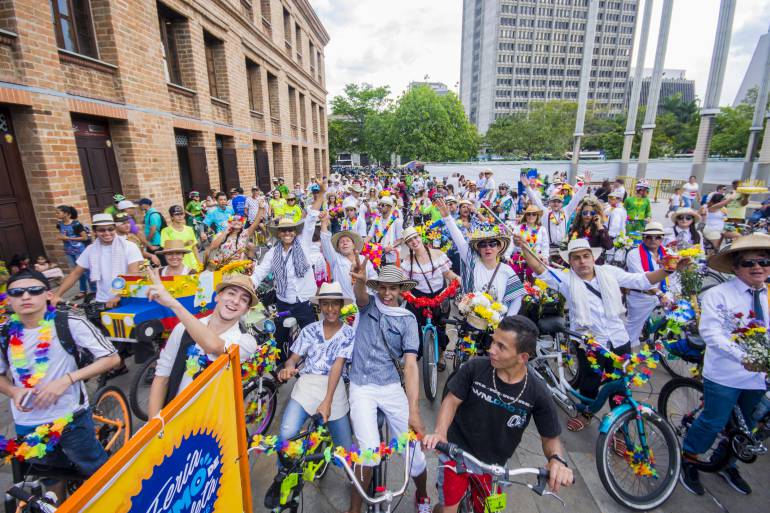 Calle de los Artistas
Where: El Paseo Bolívar, la Avenida La Playa, el Parque Lleras, and la Carrera 70
When: August 2nd – 10th, 3 pm – 7 pm
Be entertained for hours with a whole host of performances taking over the city streets. Musicians, acrobats, actors, painters and more gather in different locations to showcase the best of the local talent.
Noche de Folclore
Where: Museo de Arte Moderno
When: August 6th, 7 pm – 8 pm
A quirky event packed with heritage, this ballet production tells a story of Mexican folklore and is great to learn about traditions outside of Colombia. The show is family-friendly and takes place in the plaza behind MAMM, so be sure to visit the museum afterward.
Zona que Sueña
Where: Parque Norte
When: August 10th – 11th, 11 am – 6 pm
The place to be with young children during the Feria, Zona que Sueña hosts a range of activities like craft-making, face-painting, live performances, train rides and all of Parque Norte's theme park attractions.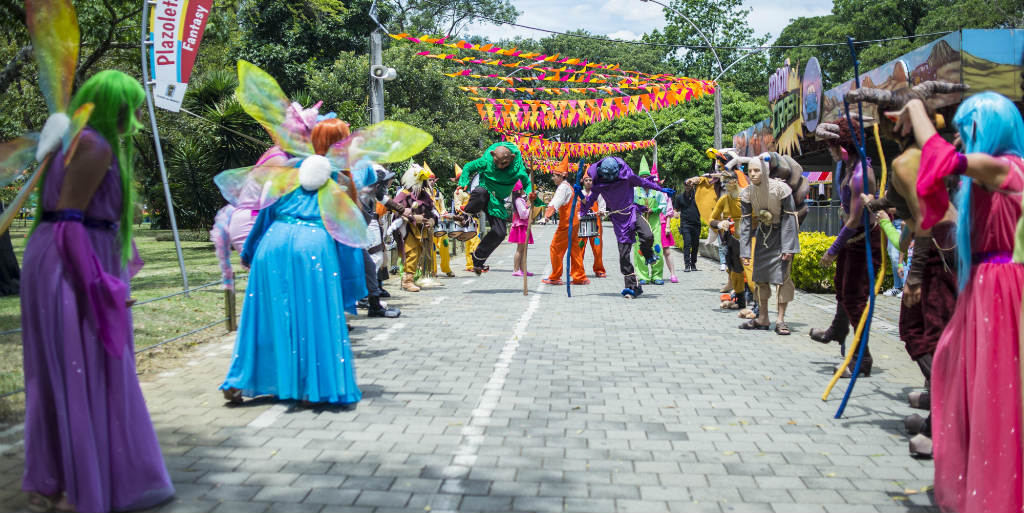 Exhibición de Silletas Ganadoras
Where: Plaza Mayor
When: August 11th – 13th, 9 am – 12 pm
After the flower parade (Desfile de Silleteros), the best arrangements are organized for visitors to see. The exhibition also includes awards for different categories like most traditional, most creative and fullest. If you miss the big parade on Sunday, this display is another opportunity to observe the stunning floral designs.
Parque Cultural Nocturno
Where: Plaza Gardel
When: August 4th – 8th, 6 pm – 12 am
Once the sun goes down, head to Plaza Gardel where live music fills the square. Most of the acts are local to Medellín and span all types of genre. If you're confident in your Latin rhythm, this event is fantastic to show off your dancing skills.
Noches Especiales
Where: Sálon Amador
When: July 25th – August 10th, 10 pm – 5 am
Looking to continue the party after the day celebrations? Sálon Amador is one of the coolest clubs in Medellín and boasts the best afterparty with a number of international DJs scheduled to play. Tickets can be bought on the door or in advance.
Tips for expats
– Remember to bring water, sun cream and a hat: Medellín's warm weather combined with large crowds is likely to leave you dehydrated
– Although known as the City of Eternal Spring, Medellín also sometimes gets unexpected heavy rain, so pack an umbrella
– Because the event information is in Spanish, it's best to brush up on a few words and phrases to get around easily
– Note all the times and locations for the events you want to attend. The metro and roads in Medellín get very busy during the festival and you'll need extra time to arrive at places
– Arrive early to secure a good viewpoint; people also take chairs or stools with them to sit
– Keep personal belongings close to you, theft is common at large events
– Be aware that Colombian events can be somewhat disorganized and start late. Being patient will mean you enjoy the festival much more
– Drinking alcohol in public is technically illegal and if caught, you face a fine. However, the police can (and do) choose to ignore public drinking so long as you're discrete