While the majority of visitors to Medellín head straight to El Poblado for their stay, one of the coolest and most underrated parts is in the heart of the city. The downtown area has a somewhat negative image but is still absolutely worth seeing, being home to a number of hidden gems. During the daytime, explore the lively streets filled with music, markets, and restaurants, and in the evening check out some of Medellín's best bars and cultural hubs. Here are our favorite 10 cool things to do in El Centro:
A note on safety
El Centro's infamous reputation stems from its high rates of crime and homelessness. While the district is safe to go to, it's wise to be extra vigilant while there. Do not flash valuables (this includes jewelry), know where you're going, and do not walk alone at night. For more tips about avoiding trouble, see our guide to safety in Medellín.
Join the free walking tour
For travelers looking to learn about Medellín's past and culture, the free walking tour offers one of the most interesting insights into the city's recent transformation. Taking groups through the busy streets of El Centro, the tour provides detailed explanations about the significance of certain points, as well as the Paisa lifestyle. If you're eager to experience real Colombia, this is an absolute must. The tours take place daily but attendees need to book in advance on the website.
While the tour is technically free, it works on a tip-basis, whereby you pay your guide what you think they're due at the end.
Snap a photo at Plaza Botero
Avenida Carabobo
A major landmark in the city, Plaza Botero is a square outside of Museo de Antioquia, filled with sculptures made by Medellín-born artist Fernando Botero. The sculptures' distorted proportions and amusing positions make for a great photo opportunity – especially with Palacio de la Cultura Rafael Uribe Uribe in the background. The striking black and white chequered building is on the best pieces of architecture in Medellín. To really enjoy Plaza Botero, we recommend sitting with a tinto and watching the world go by for a few hours.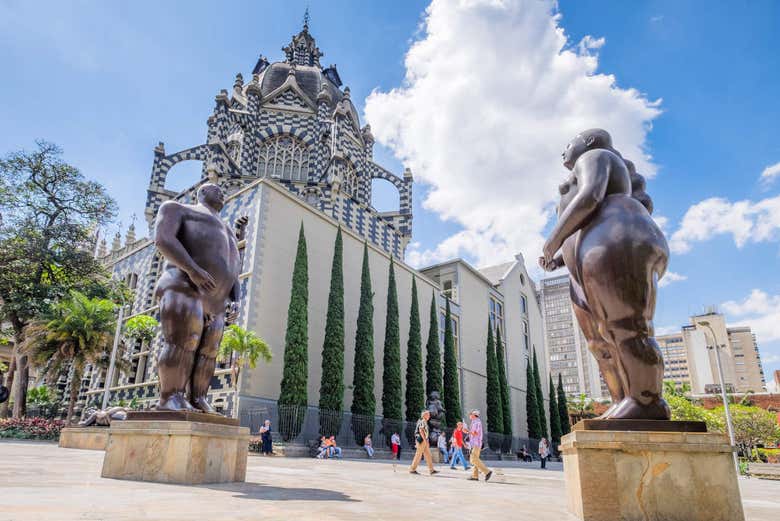 Reflect on Medellín's past at Los Pájaros de Paz
Calle 44 #50
Another Botero activity (he was born in Prado and has an especially large presence in El Centro), Los Pájaros de Paz are two large, bronze sculptures of birds in San Antonio Plaza. The difference between these figures and the ones in Plaza Botero is that one of the birds has a hole spilling shrapnel from its stomach. In 1995, a terrorist bombing in the square killed 30 people, injured hundreds more, and destroyed the first bird. In response, Botero donated a new, identical, undamaged bird to stand next to the original. Today, the birds are a tribute to the victims and a stark reminder of Medellín's dark past.
Stroll through Parque de las Luces
A short walk from Plaza Botero, Parque de las Luces is the area in front of the public library filled with maze-like rows of tall light beacons. The space was renovated in 2005 in an attempt to make it more attractive and safer for tourists. Previously, Parque de las Luces had serious problems with drugs and crime at night, so architect Juan Manuel Peláez designed the installation to literally shine a light on the issue and make a change.
The 300 lights are most spectacular around dusk when they are illuminated in different colors and look particularly majestic. However, it's best not to check out Parque de las Luces too late, as there are still troubles in the area.
Eat at Restaurante Vegetariano Govindas
Carrera 52 #51-14
El Centro is bustling with a variety of typical Colombian cuisine but if you're vegetarian, it can be difficult to find somewhere to accommodate. Luckily, Govindas is a delicious veggie option with a fantastic view. The restaurant has recently moved locations and now looks out over the church and hectic streets of El Centro. If the heat or hordes of people get too much, we suggest coming here for a little peace and quiet and refueling. Govindas also sometimes host yoga, meditation, and sustainability workshops, so be sure to check their agenda.
Get your culture fix at Museo de Antioquia
Calle 52 #43
A must-do on the traveler trail, Museo de Antioquia is home to a huge selection of art that tells the story of Antioquia. The grand building boasts galleries featuring Botero's artwork, a library, interactive exhibitions, and a picturesque central fountain feature. Entrance is $18,000 COP for non-Colombians and there's a restaurant and gift shop on-site.
If you're visiting during the rainy season, Museo de Antioquia is a top pick to escape the rain and still soak up a little culture.
Taste Paisa food at Hacienda
Carrera 49 Junín #52-98
Looking for comida típica? Look no further than Hacienda – the spot to chow down on the heartiest of Colombian's dishes. Although the chain now has multiple locations around Medellín, the original – where housewives created the recipes year ago – is in El Centro. Nestled on the second floor with a balcony overlooking the street below, Hacienda is ideal to sample Antioqueña culture. The best items include Bandeja Paisa – a platter of meat, beans, rice, platano, arepa, and avocado; Mondongo – soup with pork, beef, chorizo, and vegetables; and Sancocho – a stew with meat, potatoes, yuca, plantains, and vegetables.
Prices are a little higher than other restaurants in El Centro but the experience and flavors are well worth it.
Watch live music at El Acontista
Calle 53 #43-81
If you want to sip a cocktail while listening to live music, El Acontista is a hidden gem in El Centro. The bar hosts different musicians throughout the week, with genres ranging from jazz to blues, acoustic and country. The ambiance is cozy, the service friendly, and the prices cheap – what more could you want? Oh, and El Acontista also doubles as a book store, the kind where the walls are filled from ceiling to floor with books. Visit during the day for some Colombian literature or at night for suave performances.
Get artsy at La Pascasia
Carrera 42 #46-46
Found in the cultural heritage region of El Centro, La Pascasia is a collective that gives local artists a platform to be heard or seen. Poetry readings, film showings, live music, dancing, and art viewings all take place here in a space that has a strong sense of community. If you want to see El Centro beyond the standard sights, La Pascasia is a no-frills presentation of Medellín's undiscovered talent. The venue is open every night from Wednesday through to Saturday.
Go flower shopping at Placita de Flórez
Calle 50 #39
Medellín is famous for the yearly Feria de las Flores, and so naturally, there are several spots around the city to buy colorful arrays of flowers. Placita de Flórez is a huge, bright yellow market with the biggest supply of plants in the city. Visitors can wander through stalls selling all types of flowers for impressively low prices. There's also fresh fruit and vegetables, hand-woven baskets, clothes, sweet treats, and other trinkets on offer. This is as Colombian an outing as they come; just be prepared with cash (nowhere will accept card) and for the market to be packed on weekends.