Medellín is known as La Ciudad de la Eterna Primavera (the city of eternal spring), being famous for its year-round warm weather, spectacular nature, and location in the basin of the Aburrá Valley. And yet, a quality that often goes overlooked in Medellín's international reputation is its architecture. What makes the city so unique is the fusion between its biodiversity and infrastructure – in many parts of Medellín, buildings are designed to intertwine with plants or reflect the rich ecosystems of Colombia. At the same time, in other areas, the cityscape tells stories from Medellín's past, with structures acting as symbols of memory and transformation.
If you're looking to make the most of the beautiful weather, here's some of the best architecture in Medellín ranging from grand, traditional pieces to innovative, modern gems.
Palacio de la Cultura Rafael Uribe Uribe
Where: Plaza Botero
Completed in: 1937
Architect: Agustín Goovaerts
Palacio de la Cultura is one of the most photographed buildings in Medellín. Towering over Plaza Botero in El Centro, the striking palace was designed in a Gothic-Revival style, complete with chequered white and black stones, as well as a domed roof. The dome is widely considered a masterpiece due to its structure similar to that of New York skyscrapers – in which welding is substituted for heating nuts and bolts to tighten them and support the shape. Meanwhile, the interior has four floors, a courtyard, and a rooftop viewing deck.
In 1982, Palacio de la Cultura was declared an official National Monument of Colombia. Later, once the government headquarters moved location, the palace was renamed in honor of Rafael Uribe Uribe – a General of the Colombian Liberal Party, known for his diplomatic and social work. Today, the building is free to enter and has a range of art, photos, and historical relics on display.
Energy Living
Where: Las Lomas, El Poblado
Completed in: 2015
Architects: Andrés Felipe Mesa Trujillo, Kevin García Alvis
One of the newest additions to Medellín's skyline, Energy Living is a residential apartment complex recognizable from its distinct shape. The design is both futuristic and playful – the monochrome coloring is chic while the cubism adds personality to the building. Compiled of six white cubes stacked atop one another, each level is angled at a different height in order to provide the best view out onto the city. Two sides of every cube are fitted with windows, terraces or balconies to allow plenty of natural light to access the living spaces, as well as to create platforms to enjoy sweeping sights of the valley.
In total, there are 22 floors and 71 apartments in Energy Living, but arguably the most luxurious element is the rooftop pool, which is situated next to glass paneling at the building's edge, enabling swimmers to admire the fantastic views from in the water. There's additionally a restaurant, jacuzzi, gym, sauna, and steam room for residents to use.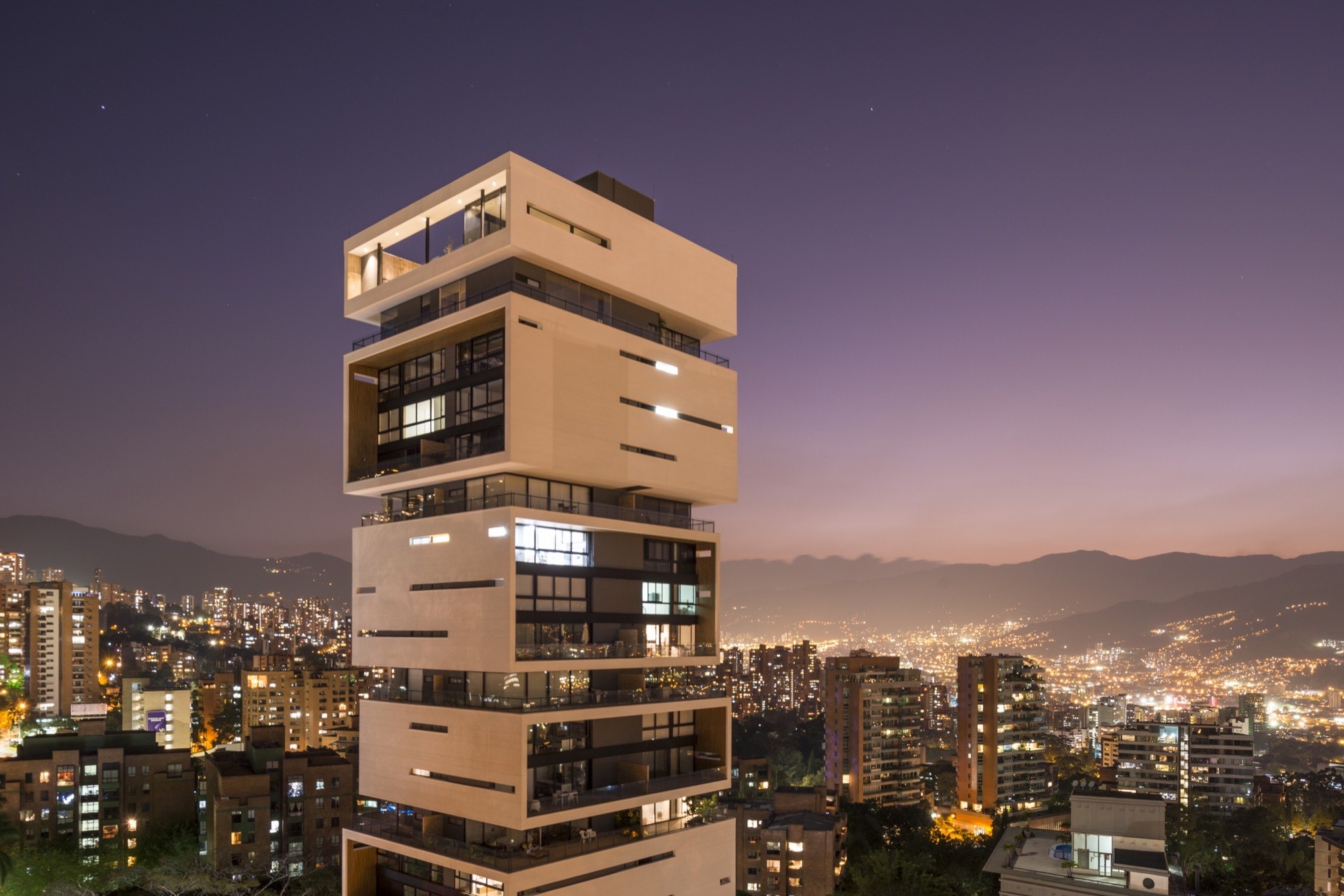 El Edificio Inteligente (EPM)
Where: El Centro
Completed in: 1993
Architect: Carlos Julio Calle
Nestled between Avenida del Río and Carrera 58, the EPM building is an icon of contemporary Medellín. The tower block was intentionally built in a poorer area of the city to promote urban development. Around the building are fountains, green spaces, and a cubic auditorium – much of the building's architecture is intended to complement these areas and encourage people to sit nearby.
The EPM building is made of steel, concrete, glass, and aluminum, and invokes water as a symbol of life, as well as the company's service mission. The design and construction were all completed by Colombians, as part of the EPM socially-responsible mission to create jobs for local workers. Six towers are attached to the main structure, which has a green rooftop complete with vertical gardens. The plants in these gardens filter carbon dioxide from the air and help reduce the building's carbon footprint – not to mention, 60% of the plants are native Colombian species.
Biblioteca España
Where: Santo Domingo Savio
Completed in: 2007
Architect: Giancarlo Mazzanti
The library perched atop the hills next to the troubled neighborhood of Santo Domingo Savio was intended to be another transformation project in Medellín aimed at boosting social mobility, access to education, and tourism in poorer areas. It was opened in 2007 and was strategically placed along the metrocable line up to Parque Arví, so as to attract tourists.
The outside of the library is formed of three stone-tiled structures interconnecting with one another; one is the library, another is the auditorium, and the last is training rooms. The building was purposely designed to have small windows, as to enable visitors to disconnect from the neighborhood and be immersed in a place of learning.
Unfortunately, in 2015, the library was closed indefinitely after severe structural defects were found in the foundations of the library. The total cost of construction was $15 million COP.
Unidades de Vida Articulada (UVAs)
Where: Various locations
Completed in: 2014 – ongoing
Architect: EDU – Empresa de Desarrollo Urbano de Medellín
A joint movement between EPM and the Medellín city council, UVA (meaning 'articulated life units' in English) is a series of high-quality public spaces built in densely-populated, low incomes neighborhoods. These projects are spread across the city and have been responsible for providing green areas, walking trails, lookout terraces, swimming pools, computer rooms, classrooms, amphitheaters, and more to communities.
The UVAs have positively impacted over 1,734,097 people in Medellín, focusing on social and sustainable initiatives that prompt citizens to "create, share, communicate and care". More than 165,000 m2 of public space has been generated as the result of the initiative. Currently, there are 18 UVA sites across Medellín, including UVA del Encanto (a playground in Santander), UVA Aguas Claras (fountains in Bello), and UVA de la Alegría (a community center in Santa Inés).
Orquideorama
Where: Jardín Botánico
Completed in: 2006
Architects: Felipe Mesa, Alejandro Bernal + JPRCR – Camilo Restrepo, J. Paul Restrepo
Reflecting the connection between living organisms and architecture, the botanical garden's Orquideorama is a beautiful 4,200 m2-structure. The huge bronze arch is designed with intricate lines that mimic a honeycomb structure and play with the concepts of small and large-scale life. The sections of the Orquideorama resembles bouquets of flowers, complete with seven hexagons representing the petals/buds.
On a more functional level, the arch provides shade to the plants underneath, decreasing the temperature and controlling the humidity to help them flourish. The Orquideorama is located in the very middle of Jardín Botánico, and its hexagons serve as foliage, filling in the missing gaps and blending the structure with nature. Not to mention, these 'petals' are coated in a waterproof material which directs rainwater down the legs of the structure and onto the greenery.
Museo de Arte Moderno
Where: Ciudad del Río
Completed in: 2015
Architect: Pedro Ramírez Vázquez
MAMM's design is centered around open and inclusive architecture integrated into an urban space. The museum moved from Carlos E Restrepo to Ciudad del Río in 2009, to an area of Medellín historically dominated by the steel industry. The current structure of MAMM echoes the past, being an expansion of the Robledo Workshops (metal warehouses) and having a main body made up of steel boxes layered and rotated above one another. As a result, MAMM is a space in which both the old and new coexist simultaneously.
Construction of MAMM's new location came after the private non-profit opened an international competition for architects to submit plans for new development. Today, the MAMM sits at 7,220 m2 and has multiple exhibit rooms, a sound experimentation laboratory, offices, classrooms, and an auditorium with a façade opening out onto the plaza behind the museum – a space regularly used for concerts and showing films.