By Brad Hinkelman: Founder and CEO Casacol SAS Medellin
Table of Contents
Introduction to the Medellin Real Estate opportunity
Who we are, what we do?

Update #1: COVID in 2022

Update #2: The Gustavo Petro Presidency

The Medellin Real Estate Guide

Step 1: What are your goals?

Step 2: The importance of location

Step 3: Newer vs. Older Construction

Step 4: Money and Banking

Step 5: The negotiation

Step 6: Purchase Agreement

Step 7: Closing

Other Interesting Topics

6.1: Pre-construction Projects

6.2: The USD/COP in 2022

6.3: Real estate bubble talk
Introduction
It's with pleasure that I take the opportunity to update this Medellin real estate guide and whitepaper for 2022. Below I have added a new commentary about the effects coming out of Covid-19 on the market in general and comments on the new Colombian president Gustavo Petro. Additionally, I have edited and expanded on a number of the sections of the guide below to make them more relevant and informative in 2022 and beyond. I have also added some thoughts and predictions on USD/COP currency implications at the end as it is vitally important for any foreign/emerging market. Also, take note of my comments on the proliferation of heavy marketing for pre-construction projects and the fallacy of "fiduciary" escrow companies.
This year, 2022, also marks 15 years since my first visit to Colombia (2007) and the subsequent addition of Medellin real estate investments to my personal portfolio (starting in 2008). It has also been 10 years since the founding of Casacol in 2012, and I've seen Medellín grow up from a backpacker hangout to an emerging world-class city to live and invest in. The long-term, structural trend toward remote work is only accelerating the demand for short-term hotels, mid-term serviced apartments, and long-term furnished rentals as the world has learned to live and work remotely post-COVID. And therefore, the demand for real estate investment properties is increasing much faster than the market in general.
Retirees are finding Medellin a great escape for a 2nd or 3rd home, and general tourism to Colombia is now heading back to its long-term travel boom trend. International flight connections and frequencies to the MDE airport are way up over 2019, which itself was a peak for domestic and international travel. From Medellin, you now fly direct to Sao Paulo, Brazil, Buenos Aires, Argentina, and there is a long list of future destinations already approved. The future for travel, tourism, and investment in Medellin looks very bright to me at this stage. Check out this chart below from publicly available data from Airplan (MDE operator) Medellin.
Never mind "recovered." International arrivals to the MDE airport are now 42% (as of this June 2022 Update) higher than the 2019 pre-COVID peak.
Who Are We, What Do We Do?
My company, Casacol (like "Casa Colombia"), helps foreign, local, junior and professional investors, 2nd home buyers, and hotel investors realize their investment and real estate diversification goals in Medellín. We are highly, highly focused on expertise in the Medellin real estate market (not Bogota, not Cartagena, not Cali), where our deep experience and focus on ground-up real estate development, traditional real estate brokerage, and high-efficiency property management leads to significantly higher returns than I've found anywhere else in Colombia (still, after all these years!).
We work with everything from studio apartments and investment (high ROI) properties (our Medellin real estate sale listings are here) to luxury $1M homes, penthouse properties, and hotels (both condo and boutique). For example, see most recently the newly expanded Celestino Hotel and Spa, the acclaimed Marquee Hotel, and our newest Landmark hotel project. More things are coming in 2023, stay tuned! There are excellent opportunities and value in each category for the astute investor who can see through the 2nd rate properties (99% of Medellin real estate, in my opinion) and heavy social media marketing, which increasingly dominates the local marketplace.
Plus, we don't sell anything that we wouldn't manage for you, which means we offer highly efficient and effective property management and solid returns on your money long after you've made your purchase. Many real estate buyers don't think about selling when they are buying but remember that "everyone sells" sooner or later, and a strong property management track record is important when liquidating your investment real estate at the best possible price. Real estate, generally and especially Colombian/Medellin real estate, is not known for high liquidity like a developed country, buyer beware.
RELOCATING YOUR LIFE OR PARTING WITH A CHUNK OF YOUR LIFE SAVINGS TO INVEST IN AN EMERGING ECONOMY LIKE COLOMBIA IS NOT A DECISION TO BE TAKEN LIGHTLY.
That is the theme of this guide: A comprehensive 7-step guide for investors large and small, starting out, winding down, or just diversifying some assets, whatever your goals are, how to invest safely and securely in Medellín real estate during the entire purchase, management (if/when needed) and sales process.
2022 Update #1: Post COVID Colombia
As I pen this update in 2022, we cap yet another strong year for the Medellin real estate market, just like most everywhere else in the world. Inflation is running high, construction costs have spiraled up, interest rates are going up, and the economy is generally quite strong. These post-COVID stimulus effects have the result of pushing prices up across the board for Medellin real estate. You can see local news commentary summarizing the post-COVID effects here (La Republica) and here (InfoBae). Colombians generally love real estate because it is such a great inflation hedge over the long term beating most if not all other asset classes long-term.
A couple of local podcasters had me on their show back in May 2020 to discuss some perspectives on the market during the worst of the COVID times. I was relaxed about the market then, I'm relaxed now. Colombia has ended nearly all of its emergency sanitary measures, masks are gone from daily life. COVID seems like history right now, and in 2023, I hope to remove this section entirely and talk about something else!
2022 Update #2: The Gustavo Petro Presidency
2022 is an important year for Colombia politically because we elected a new congress in March, and on August 7, 2022, Gustavo Petro assumed the presidency of the nation. Colombia has become more politically divided (seems just like everywhere else in the World) than I have seen in the past. The media coverage in both Colombia and globally about the elections was a story of "Left" vs. "Right" with a healthy dose of fear-mongering on all sides. The reality of Colombian politics is that the country has been the most stable democracy in the history of Latin America and is the closest ally of the United States in the region, whether you like that fact or not. I don't think this will change. Colombian congress is today "center-right," and Petro, while painted as a "socialist" among other names, has so far demonstrated "center-left" appointments (his finance Minister Jose Ocampo for example). For example, the market reaction (USD/COP exchange rate) to the Petro presidency news was effectively a non-event, and the recent sell-off in the COP is aligned with virtually every other global currency vs. the $USD.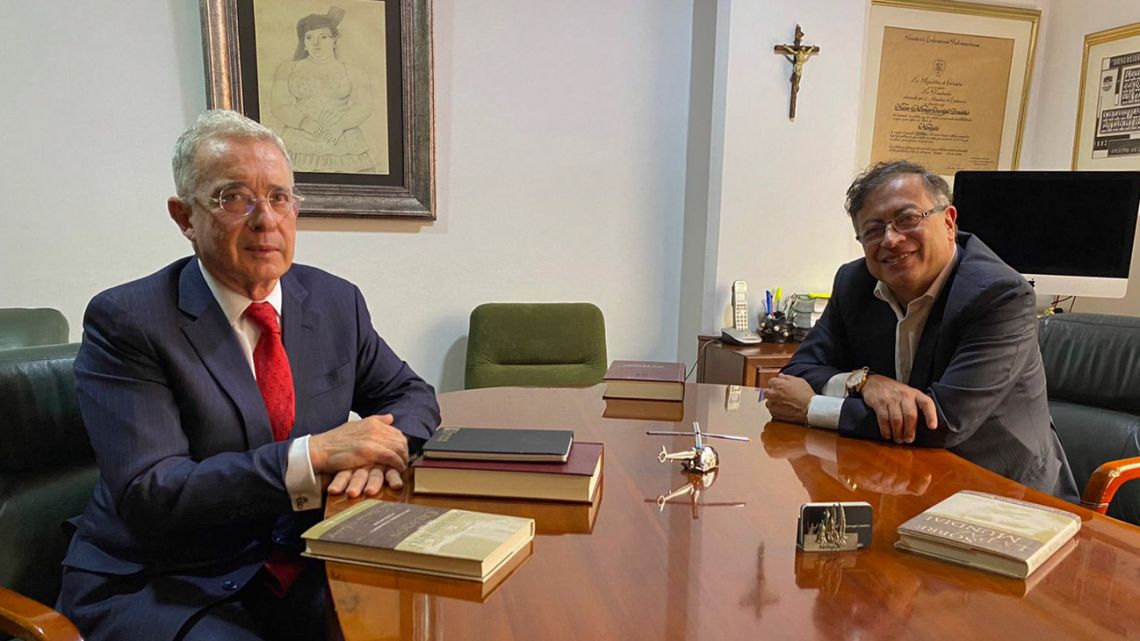 Check out these "Amigos" here after the election results.
And now, on to the guide.
Step 1: So, You Want to Invest in Medellín Real Estate?
The first question you need to ask yourself is "why?"
Here are the most commonly stated reasons:
I want an investment that produces a high monthly income

I want a place to live/live part-time/retire in, or rent out for extra cash

I need a visa/want permanent residence
There is a big difference between making a home buying decision and an investment buying decision. In my experience, the places that make great homes to live in and show off to your friends (large apartments, fincas, etc.) are not usually the best ROI-producing investments.
Likewise, the best investment properties (generally smaller studios and one or two-bedroom short-term rental apartments, and boutique hotels) are not usually where you want to live. It's important to decide early on where on the spectrum you wish to be as a buyer and realize you can't have it all.
We at Casacol also have a lot of buyers wanting to buy because they want a visa/cedula/residency/second passport. I tell everyone in this category:
"BUY MEDELLÍN REAL ESTATE BECAUSE YOU THINK IT WOULD BE A GOOD INVESTMENT FOR YOU, BUT DON'T MAKE POTENTIALLY A BAD OR HASTY INVESTMENT BECAUSE ALL YOU NEED IS A VISA."
If all you need is a Colombian visa, then find a lawyer you like, and there is always a solution. In 2019/2020, the Colombian Chancellery (immigration authority) made it a lot more difficult to receive most classes of visas, except foreign direct investment visas. In 2022 we are seeing the first drafts of legislation for migration reform that will most definitely include a "digital nomad visa." Colombia is very attuned to the fact they are behind many countries in the world in providing a clear path for temporary residency for digital nomads, remote workers, etc., and will be playing catch up in 2022 and 2023 until the reform is passed by the new congress. This is not an immigration article, but don't let anyone advise that you need to buy property in Colombia just to get a visa.
Step 2: Location, Location, Location
Heard this before? It's true everywhere on the planet, and it's true here in the Medellín real estate market as well. Once you've contemplated either living or investing here, you need to turn your head to where.
Looking for an Investment?
If what you want is a high-income producing investment, then you should be looking at a very short list of high-quality, very well-located buildings with modern amenities that ideally allow for (legal) short-term rentals, probably in Poblado and potentially Laureles, where you'll find 90 percent of the demand from foreign business and leisure travelers.
For ROI production and based on our property management experience, when talking to Casacol, we are going to steer you towards certain buildings more than others where I know we can generate good returns.
Note: Just being inside Poblado or Laureles is not enough, these are huge neighborhoods with some very poor areas for rentals within them. You should be near very specific arterial routes, with good amenities, and close to commercial centers, restaurants, groceries, or the parks, or else your eventual renters will eventually find something better! Probably 99% of short-term visitors are walking/UBERing, so don't make it difficult for them, or else you fall into the average.
Looking for a Place to Live? The World Is Your
Oyster.
Medellin real estate can go anywhere from studio apartments to farmland, Laureles, Bello, Sabaneta, and everything in between across a population of almost 4 million people and 10s of thousands of buildings (remember, most modern Medellin real estate is high-density, multi-family, high-rise. FYI: The closest thing to an MLS/Zillow in Colombia is here at FincaRaiz. While many of the properties are duplicated, improperly listed, or bait listed to get your contact, it's a good place to start for interest in the local market and building your knowledge and learning some general comps.
Choosing a place to live is like choosing what clothes you want to wear today, it's entirely personal, and no one in my office will talk you out of a specific location unless you're truly making a mistake.
Personally, I'm partial to Poblado (Golden Mile, Alejandria, Provenza, Astorga, Manila) and Laureles (Park 1, 2, Avenida Jardin, La 70) for places to live and invest. Not to mention in 2020, we launched one of the most beautiful and successful projects in Laureles, Laureles Factory Lofts, and even maintained a 65%+ occupancy rate during the worst of the pandemic.
Step 3: New vs. Old Construction
There are two philosophies on this topic:
Buy something old and "cheap," fix it up nice, rent it out, flip it, etc.

Buy something new, modern, no need for modifications/improvements, furnish and collect rent.
Older Buildings
There are some beautiful, high-quality, and superbly well-located older buildings in the Medellin real estate market.
Properly renovated (or not), they could be the kind of places you want to live in with large spacious bedrooms, lots of parking, and an abundance of storage space.
If you've done renovations before, understand the language, or can do some of the work yourself, you may also be up for the challenge in Colombia. About half of these stories (I'm probably being generous) are horror stories like anywhere else in the world renovating older buildings, so be forewarned.
Also, older buildings are often amenity-poor with high administration fees, which can affect the demand as a rental and, therefore, your return as an investor. Having said that, Colombians are totally allergic to high HOA/administration fees and will sometimes be willing to dump older buildings at prices below replacement costs! Think $1000/m2 or less than $100/sq ft in some cases.
But renting older apartments in buildings with elderly/wealthy neighbors can also be a problem. Who do you think rents large 3-5 bedroom apartments? Larger groups of younger, single males. Not always consistent with being a good neighbor.
Many of these older buildings are instating minimum 6-12 month rental periods to avoid the influx of short-term and often illegal furnished rentals. However, there are some success stories as well. Over the years, our clients bought out the residents in the Ayamonte Provenza building and successfully converted it to short-term rentals. We had a 90% average short-term occupancy rate in this building during 2021; talk about teaching old dogs new tricks.
Newer Buildings
Newer buildings usually have a long list of amenities that your renters often want to enjoy (pool, gym, sauna/Turkish bath, jacuzzi, floor-to-ceiling views, open kitchens, modern layouts, finishings, etc.).
Combined with a lack of buildable land and an ever-strict city planning department, this is why new construction in Poblado is approaching $10,000,000+ pesos/square meter in 2022 (almost $2300 USD/sq meter or approx $220 sq/ft). And other buildings like Energy Living, where we manage the vast majority of sales and rentals, you'll find the highest prices (and rental rates!) in Medellín at the moment at $14,000,000 COP/m2 and beyond.
However, higher prices in newer buildings come with higher rental prices as well, so the math often works out in your favor. That's not to mention liquidity; selling in newer, professionally managed buildings is much easier.
If the new building is designed with short-term rentals in mind like our Soul and Loma Verde projects (see all of our Medellin apartment rentals here), then you're definitely buying into a secure and steady income-producing asset. Even during the height of the pandemic, nobody here lost money in any month during 2020.
The bottom line is that there is no right or wrong answer here. There are pros and cons to new and older construction, and Medellín real estate buyers just need to apply their personal or financial preferences to every option.
At the end of this article, I've included some special notes that apply to buying in pre-construction projects and go over opportunities, risks, and important questions to ask the promoters and developers as well.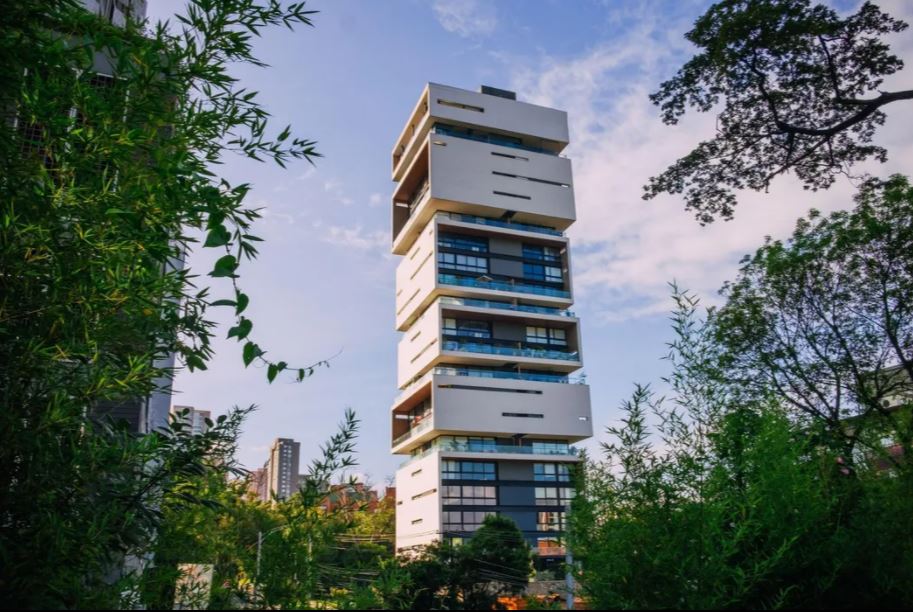 Step 4: Money and Banking: To SAS or Not to SAS
You want to set up your Colombian bank accounts as soon as possible if you're going to make a purchase.
It can take up to two weeks to open an account, and the sellers will take your offer a lot more seriously if they know you've already gone through this phase.
Too many foreigners start negotiating without even having the ability to execute financially, and I've seen good deals fall through as a result of anxious Colombians who just move on if they don't sign and get paid quickly.
Alianza Valores is a great Colombian banking resource (our preference) and one of the only ones who really know how to handle foreign investment in Medellin real estate. Many foreign investors know Felipe Chavez (private banker) personally, and you can contact him directly at fchavez@alianza.com.co. Local banks like Bancolombia, while they have a strong retail brand and presence, are very difficult/impossible banks to work with as a foreigner, even though they can be owned by foreigners (like Scotiabank Colpatria). Alianza has been the easiest to do business with for us during the last 10 years.
Buying Within an SAS
At this same point in time, you may also want to make the decision of whether to place the property in your name or in the name of your company, which has a two to three-week setup time.
An "SAS" in Colombia is somewhat analogous to an American LLC with the same kinds of rights, flexibility, and legal separation of your assets.
I have personally decided to maintain almost all of my properties in the name of my company because it affords me lots of flexibility tax-wise, and I don't particularly like my name showing up in public records. However, I'm a tax resident and run a 300-employee business, so I have a lot of flexibility with write-offs, etc. But if you're a non-resident buying just a couple of properties it might not make a lot of sense. Maintaining a SAS in Colombia is a lot more time-consuming and much more expensive than in other countries. I've seen some lawyers and accountants recommend an SAS blindly to foreigners because they can charge more fees vs. an SAS being the right ownership vehicle for the client. Never mind winding down a SAS after you've disposed of its assets is even more expensive and time-consuming than the start-up.
However, this is not an article on taxes, which you should take the time to understand. I'm always happy to explain my personal experiences and strategies with Colombian taxes to our clients, and at Casacol, we use a standard tax strategy developed by Deloitte Colombia to limit your Colombian income taxes on Medellin real estate to 19-20% vs. 32-25% for a SAS or non-resident investor. Of course, the taxes you pay in Colombia are almost always recognized by your home country as a foreign tax credit against where you pay tax as a resident.
Step 5: The Negotiation and Offer
It's important to know where the Medellin real estate investment process ends before you begin. This is often the most critical part of any real estate transaction, especially in Colombia.
This is where the fun part stops, and the serious part begins. This is also where you want your lawyer and real estate agent heavily involved; a full title study if you have any doubts about who the seller is, a purchase contract that works for you, negotiation advice, and all the paperwork at the end of the transaction.
Colombians (Paisas at least) rarely use lawyers for Medellin real estate conveyance, instead placing the administrative burden on the agent to do the running around in the notary. But as a foreigner, you're probably paying a lawyer to make this stress free, do your homework and pick the lawyer that you think will accomplish that for you. Beware of lawyers who don't specialize in real estate transactions. Medellin lawyers especially are famous for not disclosing what they know how to do (well) and don't. This is not the time for a generalist.
Also, remember when doing transactions with locals that Colombians are, on average, pretty sophisticated buyers and sellers of property. Most Colombians don't trust the stock market or even government or corporate bonds, so buying and selling property is much more common and emotional here than you would think.
They can also be shrewd negotiators. We once saw an 86-year-old woman refuse to negotiate in any way on her terms or price on a very expensive piece of real estate she was selling directly without any agency representation. She repeatedly told us, "the buyer can take it or leave it, I'm in no rush, I have lots of time left." Eventually, we closed the deal, but she got her price.
The seller will let you know if the price is negotiable. Or, you may need to ask upfront. If the price is clearly inflated, then that's another invitation to negotiate (low-ball) or just walk away. A good Medellin real estate agent who is interested in a long-term relationship with you will help you navigate this, it's their job. If you have doubts, then ask for a professional, 3rd party appraisal (at your choosing and cost) to have an extra data point for your negotiations. But please do some research even if you're working alone or with another company. I've seen some properties enter our property management division where the owners have paid way too much, sometimes 2, 3, 4 years of future appreciation, and then expect some unreasonable XYZ% return on their investment.
Step 6: The Purchase Agreement
A verbal negotiation on price and terms ends with a signed and notarized purchase agreement in Spanish known as the promesa de compraventa, a legally binding document.
While the Paisas are known for their foreign hospitality, you may see that stop when it comes to money matters.
It's not uncommon for your Colombian negotiating partner to make demands or renegotiate verbal offers right up until the actual promesa is signed in the notary. Words and handshakes mean a lot less in Colombia than they might in your home country. But a signed and notarized document is where the buck stops and you have a deal.
Don't take it personally, it's just a part of the culture to negotiate hard and up until the 11th hour here. Feel free to make demands you deem necessary, no one will be offended, it's just business.
We've seen this process take from three days to three months end to end. It all depends on the buyer and seller, strong legal/notary support, the existence of a mortgage will delay closing, etc. Every transaction is somewhat unique except in Casacol core buildings/hotels, for example, where 99% of the transactions are very standardized due to our pre-construction history and overall building management.
The most important clauses to be negotiated in a promesa de compraventa are the following:
1. What's Included in the Price?
Parking, storage, appliances, ceiling lamps, furniture?
Generally speaking, anything that isn't fastened to the apartment the owner may want to remove, including light bulbs, curtains, appliances, etc. We've seen some weird stuff, so just get it in writing (again, in writing!) if there's something you want to keep.
2. Deposit/Down Payment or the Anticipo
This is to secure the deal and is usually 10%-20%, but if the owner has a mortgage, they may ask for more so the mortgage can be canceled.
We've seen up to 30%, and for the right price, it may be a good deal for the buyer to make a larger anticipo. Sometimes you can negotiate lower prices for higher down payments as well.
This can cause heartburn to some foreigners because you are technically giving the seller some money without getting anything (like a title) in return—there's no escrow.
However, you are, in fact, protected by the penalty clause, which is a serious legal matter if not satisfied (see the next point).
3. Penalty Clause or the Cláusula Penal
This states that the buyer and seller do what they are contracting to do in the promesa on the timelines and in the amounts of money that they promise.
After signing this legal document, if you don't proceed as a buyer, you could lose your anticipo, and if you don't proceed as a seller, you could be sued and have your property "embargoed" with a lien for the amount of the agreed upon penalty, usually 10-20 percent.
4. Commercial and Declared Values (AKA the Valor Comercial or Valor Catastral)
In Colombia, like much of Latin America, there usually exists a gap between commercial values (what you pay) and declared values (what goes on the title).
You absolutely need your agent or lawyer to advise you on what is right for you here, especially if you are talking about visa/residency matters, as every case is unique. Through the 2019/2020 tax reform, the government is closing this loophole of under-declaring property values. The best practice is to require the full value of the deed unless you want to assume the seller's tax obligations when you eventually go to sell. There are some interesting flexibility options here for negotiating out the value of furniture in a furnished apartment.
5. Settling of Any Mortgages/Liens
In Colombia, it is impossible to transfer titles (notary conveyance) unless the property is free of mortgages/liens/building administration/property taxes.
It's good protection for the buyer, but it can delay the process by up to a month due to lack of escrow and bank processing of the mortgage, etc.
A good lawyer is on top of this every day to ensure this is done in weeks and not months.
6. Proration of Taxes/Rent/HOA Fees
This is just a math exercise. The property taxes need to be paid for the entire calendar year and then prorated to the date of title transfer or if the seller is giving you keys early, date of delivery, or entrega.
Same for monthly HOA fees, and in the case of buying a property that is currently generating rental income, that rental income should be split and prorated appropriately as well between buyer/seller.
7. The Signing of Escrituras or the Titles
The promesa will state a date, time, and location of a notary visit/signing for all parties to exchange final payment via cheque or bank transfer, hand over keys, and sign the title over from the previous owner to the new owner.
This is essentially where you finish the purchase process.
Step 7: Final Paperwork and Deed Registration
If all has gone smoothly, then you've signed titles in the notary, exchanged cheques/money transfers, paid your share of notary fees/taxes (budget 1.25-1.50 percent of the purchase price plus lawyer fees for closing costs), and have keys to your new place. Closing costs shouldn't exceed 2% of the value of the property you buy.
There are a series of steps, however, that your lawyer should now do to make sure everything flows properly in the department of Registro, which oversees land titles/registries. Again inexperienced real estate lawyers will often disappear here once their fees are paid.
This process ends with a refresh of the certificado de tradición y libertad, which can be pulled online and will show that you are the official owner and that all electronic records have been updated. Don't forget about this part!
We've seen errors in registro after 20 years when someone thinks they owned property that they didn't wind up being a nightmare.
You're also now free to instruct your lawyer to start the central bank registration of your invested funds if you intend to use your property purchase for visa/residency purposes.
Obtaining a Colombian ID card (the cedula) will follow as well. But, you are essentially done. Enjoy.
Buying in Pre-Construction Projects
When buying Medellin real estate from pre-construction "developers," it's important to note that a slightly different process is involved. I put developers in quotes because everyone with a graphic designer and a friend who owns a buildable lot seems to be a developer now with a fancy presentation deck. Be forewarned about who you are doing business with and who is really behind all the fancy logos on the "Team."
The pre-construction purchase process often starts with signing a no obligation hoja de negociación or a letter of intent with the builder or developer to hold your place. You may be asked to put a small amount of money down at this stage, and it can be from 1-5 percent and usually gets deposited at the Fiducia (escrow) account.
Fiduciaries in Colombia are regulated financial entities that offer an escrow-like service to builders/developers to handle all the money/contracts associated with a new development. They guarantee nothing, however. If the project aborts, they have little obligation to help you out, it's mostly symbolic confidence. You NEED to know who you are doing business with, their experience, track record, and property management strategy. We are involved in a conflict with a Fiduciary entity right now on behalf of some owners who completely violated their duties (in my opinion, a judge will probably decide) in Colombia and left investors with an unpaid bill from the developer.
The Fiducia does offer some safety and organization to pre-construction projects however because the Fiduciary will enforce the buyers' contracts as well to make sure they are paying on time, etc., paying the builder in installments as he meets sales goals. The Fiduciaries act as traffic cops to ensure buyers and builders do their part on time.
Instead of signing a promesa de compraventa for new construction, you will sign the encargo with the Fiduciaria, which serves a similar purpose and legal obligation as a promesa de compraventa of a titled property.
"IN GENERAL, AFTER ALL MY YEARS OF WITNESSING BOTH SUCCESSFUL AND FAILED PRE-CONSTRUCTION PROJECTS, MY CONCLUSION WOULD BE TO WATCH THE MARKETING STRATEGY OF THE DEVELOPER/PROMOTER VERY CLOSELY."
The most successful developers either build for themselves (build to own – because they believe so much in the product) or market to their existing clients in a private fashion without fancy sales rooms, without "Call now" banners hanging from the sidewalk, no billboards, no Instagram, no free steak knives. Because, by definition, they have a long-term successful money-making relationship with those investors who return to invest again and again.
"One-timers" are going to have the fanciest marketing materials, renders, videos, and social media you've ever seen, almost like they need to compensate for something. Let's be honest, real estate needs to be marketed to be sold, but the most successful developers sell out projects in days or weeks with a simple "Hey old clients, we have a new project" email to their client base, not with Instagram. Younger or smaller investors (<$50k USD) can often fall prey to the "sizzle" vs. the "steak." Facebook and Instagram social media have become completely polluted with Medellin real estate projects that will mostly never see the light of day.
In Summary: 8 Questions to Ask Before You Invest in a Pre-Construction Medellin Real Estate Project if You Have Any Doubts
Who's the whole team? Lead developer, architecture, structural and civil engineering, project management, sales/promotion? Resume (

hoja de vida

) for each team member.

What stake does any/all of the team have in the final project? Or are they just going to sell out to investors? Or has the "team" padded their profits with participation just to tell you, "we are already 50% sold, don't miss out?"

Is there a construction license approved? Ask to see the submitted plans in PDF, and compare them to what you are being sold, floor by floor. It's unfortunate that even in 2022, you might be very surprised by what you find.

Does the builder/GC have any gray hair? Medellin is full of junior engineers looking for their first real project. I don't want 20-somethings making structural design decisions.

If they are claiming something like "X% already sold, act fast,"—how many buyers and how many units/shares have they bought each? Have they done business with you before? Can I speak with 2 or 3 of them personally? Ask for a reference from an existing client.

If it's an investment property, who's the property manager or operator? Check their resume, references, experience, and track record. Compare their REAL, delivered, historical ROIs, and track record of meeting expectations to what is being promised/suggested by the sales promoter.

Financial engineering, do your ROI projections include appreciation (hope and a prayer, especially in $USD terms), or are they cash on cash returns? Big difference!

Liquidity, what about when I sell? Who's going to help me exit the investment in the future? Because if the business isn't working, never mind about price/value, because liquidity=0.
Thoughts on $USD/$COP in 2022
Today (July 2022 update), the USD stands at $4400 COP, a historically very low point for the COP. Many people ask me for my thoughts on what the COP will do in the next X months, and while I always have an opinion, I've been right as much as I've been wrong. Nobody knows for sure.
However, the COP, while not a "petro-currency," is strongly correlated to the price of oil plus related to other emerging markets (Brazil, Mexico, etc.), and trends in the USD/COP rate are often more associated with trends in the USD than the COP, especially this year as the US fed hikes rates to cool inflation. Money has been flowing lately into the USD from all other currencies, this won't last forever.
There is a lot of speculation about what our new president will prioritize for policy during his 4-year term and what impact that will have on the economy and currency. His finance minister (Jose Ocampo) is a Yale, Oxford-educated economist, second-time holder of the FinMin job, and recently left Columbia University to take the job again. I think we can probably have some faith in this guy.
Medellin Real Estate Bubble?
Here's another question I get asked a lot, is Medellin in a real estate bubble? It seems like ever since 2008, everyone is a bubble watcher. The first question I always ask is, do you know how an investment bubble is defined?
AN INVESTMENT BUBBLE TYPICALLY GOES THROUGH STAGES OF 1) BOOM, THEN 2) EUPHORIA, THEN 3) PROFIT-TAKING, THEN 4) PANIC/SELLOFF.
Given that foreign investment in Colombia is still low as a % of the market, credit is relatively hard to get for locals, mortgages are not possible for foreigners, mortgage interest rates are high (12%+), and mortgage down payment requirements are 30% (by law) and that Colombia already learned dearly from their 1998-1999 real estate bubble and subsequent financial crisis, I don't see conditions for a bubble in Medellin real estate. I wouldn't even say we are in a "boom." I think the market here, on average, is well balanced between supply and demand. Regardless, I always enjoy these debates with our new and existing clients.
Summary
Buying property in a foreign country like Colombia can be exciting and very rewarding both personally and financially, as I can attest to in my experience after 15 years of investing and doing business here, helping primarily foreigners find high-quality real estate investments in Medellin.
The key is to seek advice from people who are licensed, affiliated with local and national organizations, trained, specialized, and have a deep set of knowledge and experience in doing what you need them to do.
At Casacol, I've built a team and ecosystem of highly trained agents, project managers, expert property managers, legal experts, bankers, and accountants to help foreigners looking to invest in Medellín.
Medellín Living readers can read more about my company here and can contact me directly at brad@casacol.co to discuss their investment priorities at any time. PS: Meet our sales team and see our Medellin real estate sales listings here.
Don't forget to sign up for our rentals newsletter at en.casacol.co and our sales listings newsletter alerts at listings.casacol.co.
Thanks for reading, I hope this article has been useful for all.
Brad.