Did you know that some of the best coffee in the world comes from Colombia? In fact, it's only surpassed by Brazil.
Now, if you're already a coffee fanatic, this might be old news to you. But, if you're only just getting into the world of Colombian coffee, there's a lot to find out.
So, if this is something that you may find interesting, keep reading to learn everything about Colombian coffee varieties!
The History of Colombian Coffee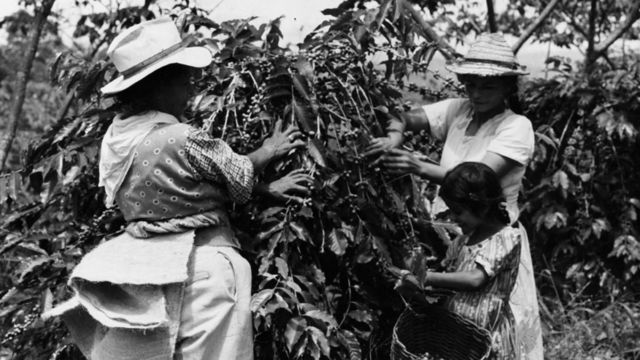 Before we start talking about types of Colombian coffee, let's take a second to go over its history.
To the surprise of many, including me, coffee doesn't grow naturally in Colombia. It's said that it was brought from Africa by the French in the 18th century, but some historians doubt this version of the events.
Regardless of how it arrived in Colombia, coffee has thrived in the country's specific weather conditions. Only some places in Colombia are suitable for obtaining high-quality coffee beans, because these plants need cooler temperatures. That's why high-altitude regions such as Antioquia are great places for growing coffee!
Remember that in Colombia, there are no weather seasons. Whereas US winters would kill the plant almost immediately, Colombia's mild year-round temperatures make for the perfect environment for these plants.
Coffee Varieties and Regions Where They Grow
You'll usually find two types of coffee mostly grown around the world: Arabica and Robusta. In Colombia, the national federation of coffee growers prefers to sow Arabica, which produces a softer drink and has greater acceptance in the world market.
If you didn't know, Arabica coffee has other varieties (each with its own characteristics) such as:
Porte alto: Tipica, Borbon, Maragogype, and Tabi

Porte bajo: Caturra and Colombia
However, you'll be able to find a minority of farmers that grow Robusta coffee in some regions of Colombia.
Speaking of regions, each region has different characteristics of humidity, temperature, and other growing conditions that affect the flavor and intensity of the coffee they harvest. Because of this, I always recommend you try artisan coffee from each different place you visit in the country!
Now that you know a little more about coffee varieties let's look at the specific parts of the country where it grows.
Northern Regions
The northern regions of the country are La Guajira, Magdalena, Cesar, Santander, and North of Santander. The taste of these beans is generally much stronger due to the low altitudes and high temperatures as well as the shade of the forests.
Central Regions
Boyaca, Choco, Quindio, Cundinamarca, North of Tolima, South of Antioquia, Caldas, and Risaralda are the central regions. Perfect for lovers of balance, the taste of these coffees is neither very strong nor very soft.
The plants grow in medium-high mountains with very fertile lands due to the volcanoes that surround those regions.
Southern Regions
The southern regions include Nariño, Cauca, Valle del Cauca, and Huila. Here you'll find a milder flavor coffee from plants that grow in high mountains. The coffee beans in this region ripen more slowly, giving the taste a slightly more bitter flavor.
Eastern Regions
Casanare, Meta, Caqueta, and Arauca are the eastern coffee regions. The coffee from these areas has a softer and fruitier taste and a very low acidity, perfect for sugar lovers.
Due to the proximity to Mexico's gulfs, these regions tend to have more rainy seasons, which affects the flavor of the crop.
Why You Should Have a Cup of Coffee While in Medellin
The Central and North regions of Colombia, where Medellin is located, have long been recognized as the largest producers of Colombia's best high-quality coffee. These regions have lower rainy seasons and cooler temperatures. So, the variety of coffee you'll find here is mainly softer and citrus flavored.
Plus, in Medellin, you'll find many coffee shops with professional baristas that can craft an excellent cup of coffee. Heck, they can even teach you to sip, smell and swirl like a professional coffee taster! It's a great way to try the most popular varieties of Colombian coffee.
Alternatively, you can head out to one of the small villages near Medellin, where you'll find a great diversity of artisan coffees grown directly on fincas or farms specialized in coffee growing. If you like learning about processes, this is a good activity to try.
The Difference Between Colombian and American Coffee
Ironically, if you're from the US, the coffee you drink in the mornings is most likely grown in South America. However, the quality is moderate. The taste has high levels of intensity and acidity.
For this reason, the difference in the coffee is very noticeable when arriving in Colombia and trying the traditional coffee of the country's coffee regions. Here, coffee has much more developed tasting notes and less bitterness.
Treat Yourself to a Cup of Colombian Coffee
Coffee is one of the most important national heritages in Colombia. That's why you can't leave Medellin without trying a coffee tasting tour.
Now that you know all about its history and varieties, you can brag about being a real high-quality Colombian coffee taster. Have fun!
Like the story? Take a second to support Medellin Living on Patreon!