Colombia is the second biggest exporter of coffee in the world, and so naturally, thousands of tourists flock to the country every year to sample a cup of the local brew. While the Eje Cafetero is the obvious first pit-stop to experience coffee culture, Medellín also has an impressive number of cafes who work closely with coffee farmers in Antioquia. Beyond just the drink, cafes in the City of Eternal Spring are fast-becoming a place to work remotely, take Spanish classes, and generally soak up Paisa life.
Following on from our previous article, we've delved into all things caffeine and coworking to list the best cafes in Laureles (the comuna in the northwest) as of 2019.
Café Cliché
Carrera 76 #4141
This French-owned café and bistro is tucked away down a residential street between San Juan and Avenida Nutibara. Café Cliché is a favorite with both foreigners and locals alike, who come here for the delicious food, friendly service, and cozy environment. Inside, a mix-match of furniture and eclectic trinkets decorate the space, while outside at the front there's a patio area perfect for spending warm afternoons.
The café serves up a French-style menú del día during the week, and in the evenings has an impressive selection of tapas, burgers, tartines, and rich desserts (the chocolate mousse is incredible). They additionally host an array of events throughout the week, including free movie nights on Wednesdays and live music performances at the weekend. If you're looking for a café with plenty of charm and a dash of French sophistication, Cliché is your answer.
Délmuri
Calle 39C # 73-29
Just across from Segundo Parque and next door to Café Semilla, Délmuri is a quaint spot known for its coffee and cakes. The menu is small but very tasty and includes sandwiches, pastries, and a selection of mouth-watering postres (be sure to try the carrot cake). All the staff are experts at preparing great coffee, so the café tends to be filled with digital nomads seeking their caffeine fix for the day. The entrance to the café is open-plan, meaning there's lots of natural light, as well as a view of the park opposite. If you're the kind of person who enjoys watching the world go by, Délmuri is ideal.
Al Alma
Avenida 74B #39B-143
One of the newer additions to Laureles' café scene, Al Alma already has locations in Poblado and Ciudad del Río. Nestled above a restaurant, the entrance to Al Alma in Laureles is easy to miss but definitely worth the effort to find. Upstairs, the café has a modern vibe, with lots of plants filling the space, as well as artwork dedicated to coffee. In the center of Al Alma stands the counter displaying pastries fresh from Tomasa bakery (incidentally, the closest you'll come to a European croissant in Medellín).
Al Alma is popular for presentations and brainstorming thanks to its long meeting table and separate meeting rooms, which have large screens and can seat multiple people. Alternative to working, Al Alma has comfy sofas that are great for settling into with a book for a few hours.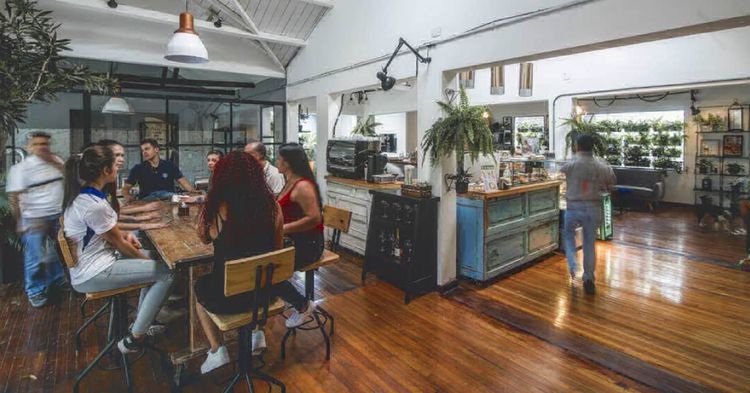 Café Zeppelin
Transversal 39 #76-12
Café Zeppelin is one of the longer-standing cafes in Laureles and for very good reason. This German-run café is a unique blend of European and Latin cultures, serving a wide range of foods, drinks, and entertainment. The décor is similar to Café Cliché, featuring all kinds of thrift furniture that gives it a particularly homey feel. The café itself is surprisingly big and stretches to the back of the building where there's an open-roof space packed with plants and even a small pond.
Zeppelin is one of the few cafes that's open on Sundays (albeit not until 3 pm), as well as on festivos (Colombia public holidays). They host a range of special events like arts and crafts markets, language exchanges, and cuisine nights.
Paraíso
Calle 42 #70-38
Located off a side street from La 70, Paraíso may be little but it has big offerings. All the food here is made in the café, including fresh gyro bread for wraps, and a number of sweet treats. The café works in partnership with a finca in Antioquia to support sustainable coffee production, and all their hot drinks are made to perfection. Visitors can buy the coffee in the café too; just remember to specify how you normally prepare it (e.g. in a French press).
The staff at Paraíso are particularly friendly and welcoming, and the owner speaks very good English if you're not too confident in your Spanish skills yet. For a first date or quiet escape to get some work done, Paraíso is a true hidden gem.
Semilla Cafe Coworking
Calle 39C #73-7
Having only recently opened, Semilla Cafe Coworking is a café and coworking space that's been met with delight from digital nomads. The sleek design, state-of-the-art technology, relaxed atmosphere, and fantastic coffee ticks all the boxes for a remote office. The downstairs section is the café, complete with long tables, individual desks, a tiered seating area, and separate office rooms. Here, hungry workers can tuck into breakfast options, fresh bakery items, savory snacks, and coffee sourced from Urrao.
Upstairs in the coworking section, members have access to computers, stand-up desks, whiteboards, call booths, and much more, plus a network of fellow entrepreneurs.
Rituales
Circular 74A #39B-22
Just off Avenida Nutibara, Rituales is the option for people who are serious about coffee. The recently-renovated café is run by baristas who take pride in their coffee knowledge and ensure that the café always smells invitingly fragrant. There are currently three types of coffee available at Rituales – Pureza, Luz, and Paraíso – and all are distinctly different, and grown under completely natural conditions. As a result, Rituales is one of the few places that boasts wholly organic coffee. The café even offers coffee courses, where budding experts can learn about the steps involved in a bean-to-cup process, along with how to roast and follow an ethical business model.
Besides, the coffee, Rituales has sandwiches, cakes, and breakfast dishes to tuck into. The café itself is a converted garage but feels very chic and has a front patio space to work or socialize in the sunshine.