I'm the kind of person who doesn't care what the weather is doing—If I'm craving ice cream, I'll go grab a cone no matter what.
Luckily, in Medellin, you'll find a lot of unique ice cream shops with tasty flavors to sweeten your day.
I've done the work and visited some of the best places in the city to grab a cone or a cup. So, keep reading for all the best places to sit down to some ice cream in Medellín!
Arte Dolce
My favorite ice cream and first on the list is Arte Dolce. This is a craft ice cream shop located in the renowned Poblado neighborhood, just around the corner from some of the best hotels and Airbnbs in the city!
They're always innovating new ice cream flavors, and they offer vegan options too. In other words, there really is no excuse not to visit this place.
The best part about this place is that you can have a coffee to pair with your cone. It's a great way to balance out all the sugar from the ice cream!
And, if you're not in the mood for ice cream, they've got some other great treats on the menu:
Gelato cookie

Tiramisu

Cream puffs

Sweet pastries (cake, cheesecake, mousse)

Savory pastries (Sandwich, fagottino, crepe)
On the other hand, if you love their ice cream and want to stock up, you can buy up to 4-liters at a time.
Arte Dolce also offers delivery on Rappi or Whatsapp in case you don't feel like leaving the house.
Insider tip: I recommend you try Stracciatella gelato or vegan blackberry sorbet. They're both to die for!
Amor-acuya
The name of this ice cream parlor is a pun on maracuyá, the Spanish word for passion fruit. And, they certainly put passion into their ice cream!
Here you'll find some really unique flavors, all of which change frequently. When I went, I tried the quipitos flavor, which is a typical Colombian candy. It might not be for everyone, but it's something you won't get anywhere else.
Amor-acuya is a pet-friendly place. If you want, order a small scoop of vanilla to share with your fur baby. After all, it's only fair!
In case you were wondering, they also have vegan flavors. In my opinion, the chocolate is the best vegan scoop on the menu. However, they've got other great flavors for you to pick from, too!
Prego Gelateria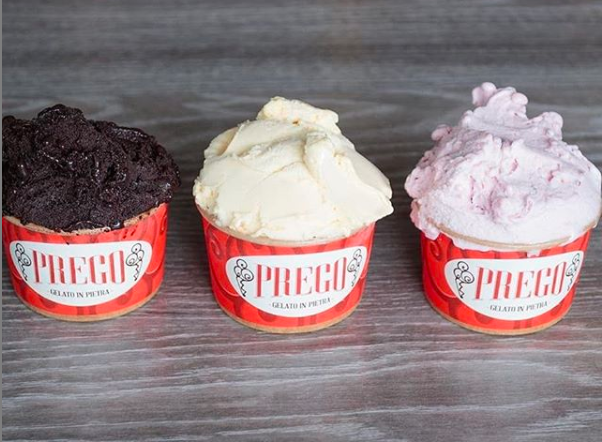 This Italian ice cream shop also has its own unique flavors. And, while there's nothing particularly unique about this place, the ice cream here is fantastic.
A few of the flavors include:
Vegan:

Passionfruit and intense (80% cocoa)

Light:

Yogurt, peanut, Belgian chocolate, and hazelnut.

Standard:

Ferrero, kinder, milo, tres leches, pistachio, lemon pie, almond, and french vanilla.
Prego Gelateria can be found in three different malls. I usually visit them in the Oviedo Mall, but you can also swing by the San Lucas or Viva Envigado malls.
You can also order delivery on Rappi if you don't want to leave home. Talk about convenience!
Amoratto
Specialists in cocoa and chocolate handling, Amoratto has a whole menu of gelato bars.
They've got tons of great flavors for you to pick from, such as maracumango (Passionfruit and mango) or strawberry cheesecake.
Once you pick your flavor, the staff will dip your ice cream bar in molten dark, white, or milk chocolate. Then, they'll cover it in toppings such as nuts and candy.
One thing that's cool about this place is that they make chocolate hearts the size of a cake. These treats come with a small mallet to break it and eat the filling (which is obviously more chocolate); it's like a small piñata but with more sugar.
They're perfect for an anniversary or birthday gift!
Nice Lab
Nice Lab is one of the many hidden gems of Medellin. And, when I say hidden, I really mean hidden—the place is small so many people end up passing by without realizing it's there!
In this place, it's impossible not to feel like you're in a science lab at school. All their ice cream is made with nitrogen, so it's got a unique taste.
If, like me, you're wondering the difference between ice cream made with nitrogen and normal ice cream, the answer is pretty simple.
Nice Lab ice creams have 0% air, which generates small ice crystals that result in a much creamier flavor.
They have a lot of exotic flavors like froot loops (my favorite) or small meringues that explode and release nitrogen in your mouth. They've also got weird toppings like chocolate-filled syringes that you can squirt all over your ice cream.
If you want something a bit off the beaten path, this is the place to go!
Madelo
Perfect for frozen yogurt lovers who lead a healthy lifestyle and don't want to feel guilty for eating some ice cream, Madelo is a healthy ice cream parlor.
Madelo is famous for its fresh frozen yogurt, but they also make some pretty great pre-made sundaes and ice cream treats.
If you want to try something on the sweeter side, I recommend you order the chocolate volcano with strawberries and ice cream.
Or, you can go for something lower in sugar:
Fruit and granola parfait

Milkshakes

Smoothies

Italian sodas
Sweeten Your Day in Medellin
In all honesty, all of these places are great spots to grab some ice cream. That's why I didn't rank them!
So, which will it be? Will you chow down on cholatiers' ice cream bars at Amoratto or will you try something out of the box at Nice Lab?
Whichever it is, I'm confident you'll be a fan of the cones, cups, and other sweet treats at these shops.
Like the story? Take a second to support Medellin Living on Patreon!