Medellín is the perfect combination of urban sprawl and nature – the city's famous orange buildings contrast with patches of green and attract culturists and nature-lovers alike. Not only is Medellín's landscape beautiful, but it's also fantastic to explore. One of the top attractions for visitors to the City of Eternal Spring is Parque Arví. The public park is completely free to enter and has 16,000 hectares of dense forest, plants, and ecosystems. Whether you're planning to spend a day immersed in nature, history or Paisa life, here's the ultimate guide to Parque Arví.
What to bring
Parque Arví is not actually located in Medellín but in a town called Santa Elena that sits atop of the Aburrá Valley. Because of its setting higher up, the weather in Arví is different to down in the city, typically being colder and with higher rainfall but stronger sun rays. The diverse climate means anyone planning to go to Parque Arví should come prepared for all conditions. Remember to bring:
– Sun cream
– Hat
– Sunglasses
– Waterproof jacket
– Warm layers
– Water and snacks (although there are tiendas and street vendors at the Parque Arví metro station)
– Sneakers/walking shoes (do not wear sandals, you'll regret it)
– A small amount of money (there is one ATM but it's temperamental and restaurants/shops will only accept cash)
Getting there
It's possible to take a taxi up to Parque Arví, however, the journey will be expensive and likely take up to an hour with Medellín traffic. The easiest – and most impressive – route is via the metro cable.
There are two legs of the metro cable journey up to Parque Arví, and these take around 30 minutes in total. The first metro cable (Linea K), runs from Acevedo metro station to Santo Domingo and is included in the price of a standard metro fare ($2,255 COP with a Cívica card and $2,550 COP without). From Santo Domingo, there is another metro cable solely for reaching Parque Arví – this ride costs an additional $10,000 COP.
The line to Arví is open Tuesdays – Saturdays from 9 am to 6 pm, and Sundays and holidays from 8.30 am to 6 pm. The metro cable does not operate on Mondays as the park is closed. When leaving, aim to be back at the metro cable station by 5.30 pm, as there are normally lines and once the metro cable closes, the only option back to Medellín is by bus.
What to do
Mercado Arví
Located on the square in front of the metro cable, this market is where local farmers and entrepreneurs sell everything from organic produce, coffee and cakes, to jewellery, clothes and typical Paisa goods. The market is open most days and has more than 40 stands open on weekends. To top it off, there are usually performances next the market from musicians and dancers.
Environmental & Cultural Center Ignacio Vélez Escobar Arví Park
A center to host the various events in Arví, this auditorium also has a food court and plenty of additional information about the park and its history. Be sure to check out the shop, which is run by female heads of households and Santa Elena communities, and sells quaint souvenirs that promote sustainability.
Hike
Parque Arví boasts beautiful scenery and vibrant wildlife, as well as a network of pathways to explore on foot. Most of the routes are easy to follow, although admittedly, there are sections that lead along roads and don't have signs to direct hikers. Nonetheless, the routes are suitable for all abilities and showcase a variety of flora and fauna. For keen hikers, there's the option to hire a guide to find out more about the landscape and rural communities of Arví. On special occasions, night hiking takes place, where visitors are treated to a campfire and music on their adventure through nature.
Picnic
There are a number of designated picnic areas throughout Arví, the most popular being at Picnic Chorro Clarín – a picturesque spot about a 30-minute walk down from the metro cable plaza. Here, visitors can enjoy tucking into lunch next to a stream, tall woodland trees and lush nature. Shelters are available if the weather takes a turn, along with BBQ pits and trash cans.
Comfama
A social company focusing on community and cultural activities in Antioquia, Comfama has a number of locations across the department. Their space in Parque Arví is dedicated to being active and discovering the great outdoors. Things to do include birdwatching, zip-lining, a climbing wall, archery, a 4D cinema and much more. Comfama is a fantastic day out for all the family, plus is perfect for adrenaline-seekers who prefer to see Parque Arví from above the treetops.
To get to Comfama, free shuttle buses run from the main road next to metro cable exit and take around five minutes each way. Entrance varies between $18,000 – $2,300 COP depending on your strata (the social system in Colombia) and if you have a Comfama card.
Where to eat
Only a handful of restaurants are in the park itself, although extra hungry visitors can venture into Santa Elena town for more options. Once you've worked up an appetite but sure to stop at one of these tasty places:
Tienda Café Arví
A quick walk away from Mercado Arví, this cafe is a new addition to the park and a much-needed caffeine stop for visitors. Only Colombian beans are used in the cafe, so the coffee is always incredible. If coffee isn't your thing, there are also pastries, cakes and artisanal beers.
Cable a Tierra
A quaint outdoor restaurant, Cable a Tierra serves up traditional Colombian dishes mixed with delicious vegetarian and vegan options. This a prime place for hearty food with stunning views, plus the staff are exceptionally attentive.
Estadero El Tambo
Best suited for weary hikers, Estadero El Tambo boasts huge portion sizes for very reasonable prices. The menu is mostly Colombian, consisting of meat, rice, beans, arepas and salad – perfect to refuel!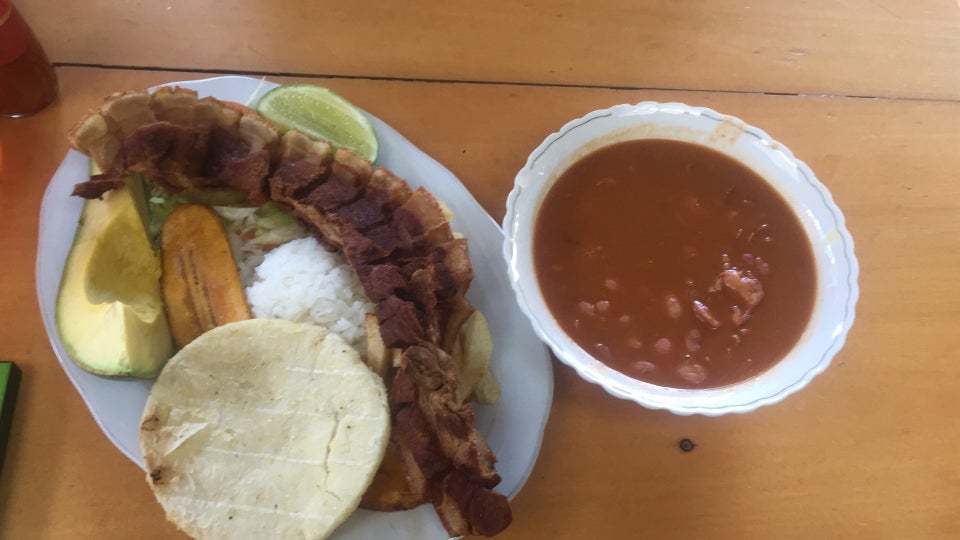 Bar Restaurante los Scouts
Nestled on the side of the main route down from Arví's entrance, this is another authentically-Colombian restaurant and bar. Tamales, arepas and juice are the most popular choices, although don't be surprised to see locals sipping a beer whatever time of day.
Safety
Generally speaking, Parque Arví is safe to visit – especially with Medellín's recent boom in tourism, meaning plenty of travelers make the journey up to the park on a daily basis. There are also various information points and staff members at the park entrance (opposite the metro cable), plus maps of the park. Similarly, there are designated bus routes for getting to Comfama or other parts of Santa Elena.
With that being said, there have been reports of robberies in Parque Arví, normally targeted towards extranjeros. While these occurrences are rare, the best way to stay safe is to always follow the trails, don't flash valuables and don't stay in the park after nightfall unless with a tour. There's also the option of hiring a guide to lead you around the park, however, exploring alone is normally fine (and common) and guides serve more as a precaution than a necessity.
Eager to know more about Parque Arví? Check out our first-hand experience with one of the park's guides.