Carve your pumpkins, hang the cobwebs, buy the candy, and prep your outfit – it's October 31st and time to celebrate all things spooky. In Colombia, the day is also known as Noche de Brujas ('Witches' Night' in English) and follows most of the traditions used in America. While Medellín's version of the holiday isn't quite as grand as in the US, there are a few special events that take place across the city in honor of the dead-fest. Here's how to celebrate Halloween in Medellín for both kids and adults.
Activities for kids & families
Trick-or-treat through the city
Naturally, one of the biggest goals on Halloween is to get as much as candy as possible. For kids (and adults, depending on your embarrassment threshold), trick-or-treating is the main event on the night of the 31st. Whereas in North America and Europe, people go from door to door asking for sweets, in Colombia, they go to shopping malls and candy stores. Expect most of the malls in Medellín to be dotted with small witches, devils, ghosts, and ghouls asking for treats and singing this song:
Triqui Triqui Halloween Tricky Tricky Halloween
Quiero dulces para mi I want candy for me
Si no hay dulces para mi If there is no candy for me
Se le crece la nariz. Your nose will grow.
Arts & crafts at Parque Explora
If you're looking to get creative on Halloween, Parque Explora's Hack-lloween event is a full afternoon of cool activities. From costume-design and zombie makeup to creating electronic masks and monster robots, the different workshops take place Wednesday 30th from 2 pm until 6 pm in Taller Central. All the classes are suitable for children aged 8 and above and are a fantastic way to prepare for a night of thrills.
Dog costume competition in Ciudad del Río
Paisas love their pooches, so it's no surprise that Halloween is seized as an opportunity to get their four-legged friends involved. On October 20th, at the skate park in Ciudad del Río, pets don their Halloween costumes and compete for the prize of best dressed. The competition is hosted by the Siberian Husky and Alaskan Malamute Club but dogs of all breeds are welcome to join. Whether you have a budding furry contender or just want to witness the cuteness unfold, arrive with a camera at 9 am.
Participants must sign up with their perro in advance; tickets are $25,000 COP and include entrance to all the activities, as well as snacks for dogs and humans.
Activities for adults
Go Colombian at Andres Carne de Res
An iconic bar and restaurant in Colombia, Andres Carne de Res is famous for its steaks, bizarre décor, and over-the-top parties. If you're looking for a fonda-style Halloween combined with hearty Paisa food, this is the place. Come Halloween, Andres Carne de Res is a mixture of all things weird and wonderful – we're talking heavy decorations, bright lights, and a variety of outrageous costumes. The chain usually has a theme for Halloween, so be sure to check beforehand what 2019's event has in store.
Party in Parque Lleras
Arguably the place to be come nightfall on Halloween, Parque Lleras is located in the heart of the El Poblado neighborhood and is known for its vibrant nightlife. The square is surrounded by multiple bars and clubs playing pounding reggaetón and spilling people out onto the streets.
On October 31st, most of the venues have themed nights or offers on drinks and entry, plus costume competitions. To soak in the most impressive outfits in the city, Parque Lleras is the main stage. Foreigners and locals alike flock here but it's typically Paisas that win in terms of commitment – expect to see celebrities, zombies, and clowns ready to rumbear.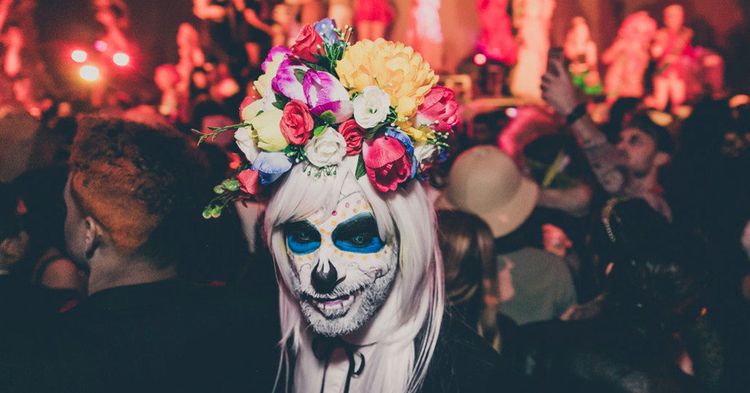 Get cultural at Palacio Egipcio
Over in El Centro, Palacio Egipcio will be combining Halloween with the Mexican Días Los Muertos (Day of the Dead). The art center's doors open at 10 pm on Saturday November 10th, beginning the night with a theater production of 'La Muerte y la Vida' (Death and Life) and then launching into a full fiesta with DJs playing. Audio-visuals and artistic scenery will also feature throughout the evening, which is due to go on until 4 am. Tickets cost $20,000 per person and must be purchased in advanced via Eventbee.
Salsa at Dancefree
Ready to get sweaty on Halloween? Head over to the Dancefree studio on November 2nd and put your footwork to the test. Whether you're an experienced dancer or a newcomer, Dancefree's events are ideal to learn steps quickly and make some sultry new friends. Complete with live music and different dance classes, as well as an open bar for rum and Aguardiente, the night is a wholly Latin experience. The event begins at 9 pm and runs until 4 am. Admission is $20,000 COP and can be paid on the door.