As much as I like luxury living, sometimes, I'm traveling on a budget. And, when the budget is tight, it can be tough to find good hotels.
Sure, you can always scour TripAdvisor to see what you come up with.
But, let's be honest. Many times, the hotels on there aren't true to their word and wind up costing a bit more than what you'd bargained for!
To help you avoid this all-too-common problem, I've put together a guide on the best hotels under $100 in Medellin. Let's take a look!
Soul Lifestyle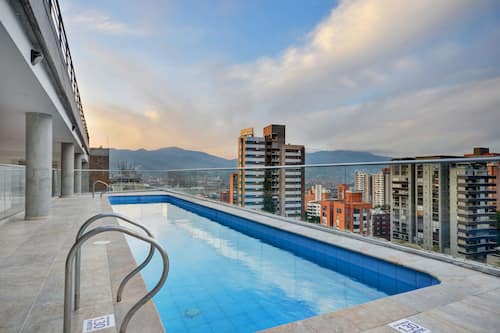 Soul Lifestyle is made up of apartments and is located in the popular Poblado district, heading to the south of the city. It's an aparthotel building with one-bedroom apartments that are fully furnished with modern, fresh decor.
On the terrace of the building, there's a heated pool, a jacuzzi, a Turkish bath, a gym, a pool hall, and a coworking space with high-speed internet. That's a ton of amenities all packed into one space!
In terms of what to expect, this place gives you all the comforts of a hotel but the privacy of an independent apartment-type space. You can choose apartments on the lower floors for more accessibility or go for a high-up, penthouse-style apartment.
Soul Lifestyle has a restaurant called Smash Avocaderia. There you can get coffee and healthy meals to keep you fueled during your stay.
The whole stay clocks in at right about $100 (or less) making it a great place for those who are wanting to stay somewhere nice on a budget.
Epic Boutique Hotel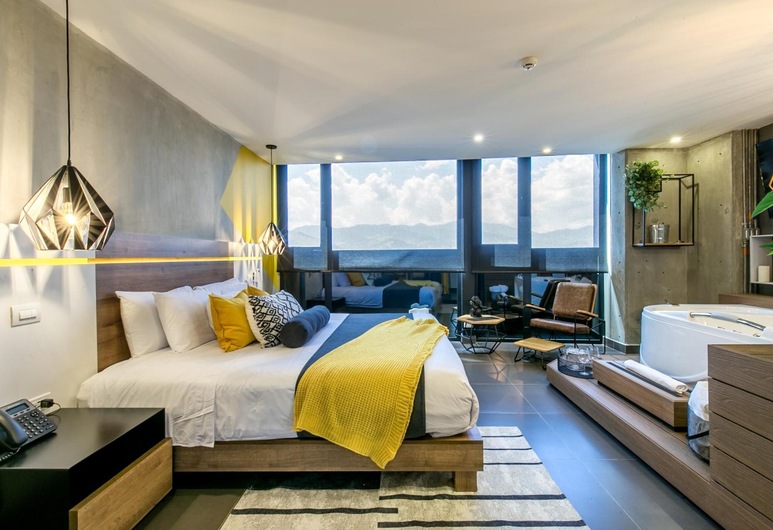 Epic Boutique Hotel feels like a luxury place to stay but doesn't come with the hefty price tag associated with those types of rooms.
This industrial-style hotel stands out thanks to its elegant design, rooms with hydromassage bathtubs, and beautiful views of the city. Like Soul Lifestyle, it's conveniently located in El Poblado, next to Parque Lleras.
In terms of the amenities, Epic Boutique Hotel has a business center and a bilingual reception team that's available 24 hours a day. It's also got laundry and airport transfer services to make your stay even more comfortable.
Probably the biggest advantage of staying in Epic Boutique Hotel is that it's located close to bars, nightlife, and restaurants. You can get out and explore the city without having to shell out tons in transportation costs.
Once again, you can get all this for less than $100. Talk about a sweet deal!
Somos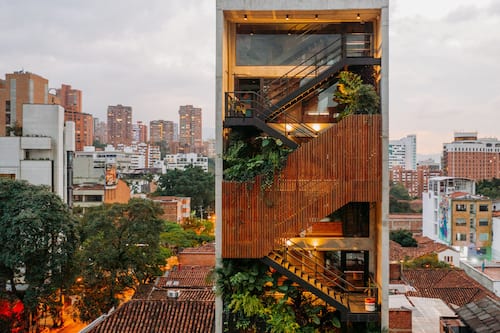 Somos Hotel is a boutique hotel with a contemporary design and tropical vibes. The name means "we are," and it's located in a hot spot of the city thanks to its placement in the popping El Poblado neighborhood.
While Somos is already super affordable with prices under $100, they also run summer specials. That means you can score even bigger discounts on your affordable stay!
At the hotel you can choose between three types of rooms:
Standard Queen

Double Queen

Deluxe King
They all include Wi-Fi and reception service 24 hours a day. Plus, they've each got air conditioning so you can stay cool even during hot Medellin summers.
Somos has a bar-restaurant named Mosquito that operates both on the rooftop and in the basement of the hotel. It's a great place to grab some drinks and meet someone new.
Art Hotel Boutique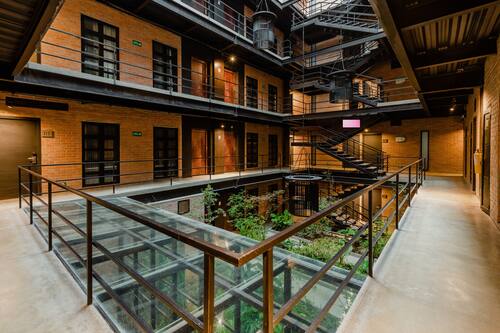 Art Hotel Boutique is known for its respect for nature and hanging greenery scattered around the lobby and exterior of the building.
Art Hotel, as you might guess from the name, has beautiful works of art. In fact, the lobby itself is an art gallery!
Like many of the other hotels on this list, the hotel is located in El Poblado. It's basically a way to enjoy a luxury stay without having to shell out tons of cash. And, you can stay in a private room rather than a hostel while still living in one of the best neighborhoods in Medellin.
There are three different types of rooms at the hotel:
Standard room

Superior room

Executive room
In each of them, you can enjoy high-speed Wi-Fi. You can also enjoy breakfast or cocktails on the terrace and delicious cuisine from the exclusive restaurant located on the rooftop of the building.
If you go on a business trip, this hotel has an excellent meeting room where you can plan events with up to 30 people in an auditorium format.
Diez Hotel
Located in a strategic corner of El Poblado, the Diez Hotel has decor that recreates the different Colombian traditions.
The Diez Hotel offers different lodging experiences such as wedding nights, romantic stays, and picnics in your room, among others.
In this hotel, you can choose between seven types of rooms, ranging from double or triple to suite. Each of them is equipped with one or more beds, large or small, and comes with a balcony or window.
At the hotel, you can hold social events in the coworking space, too. Also, you can enjoy food from the various restaurants located on the first floor and on the rooftop.
Other amenities include a spa, a gym, and a pool on the terrace. It's an affordable stay and a great option if you're not wanting to spend a ton of cash while in Medellin.
Choose Your Best Hotel Under $100 in Medellin
Staying in Medellin doesn't have to be pricey. In fact, it can be pretty affordable if you know where to look!
So, which of these hotels do you think you'll stay in? Let us know which one you like best or tell us about some of the other budget hotels you've found around the city!